Scholastic's Dick Robinson: Honoring the Memory of a Towering Children's Publishing Champion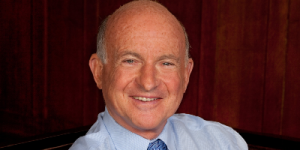 Penguin Random House joins the worldwide publishing and literary community in mourning the sudden passing of M. Richard "Dick" Robinson Jr., at 84, on Saturday, June 5. One of the book world's most admired and successful chief executives, Robinson was the long-standing chairman and president of Scholastic, whose near-five decades of leadership drove the company ever forward as a great, defining children's publisher, and thus a great, worthy competitor of ours.
Readers know of Robinson, and Scholastic, best through its deep front list and backlist of some of the most beloved and popular book series, franchises, and literary properties. Among them: "Harry Potter," "The Hunger Games," "Goosebumps," "Captain Underpants," "Dog Man," and "The Baby Sitters Club." Its Scholastic Book Clubs at school book fairs have been a staple of many American childhoods.
At his death, Robinson was very much at the helm of his company, "overseeing [the] long-term strategic direction and day-to-day operations" of Scholastic, which his father founded 101 years ago. As with many next-generation business successions, he greatly expanded its reach, results, and vision, through acquisitions, and expansion into education and professional publishing.
Robinson's zest for collaboration across several generations of writers and illustrators was surpassed only by his tireless advocacy for young people reading and owning books. Those who knew him personally or only from afar were unfailingly inspired by his transcendent values for instilling a love for storytelling and a passion for books in children of all ages, and their parents, guardians, and teachers.
Upon accepting the National Book Foundation's Literarian Award in 2017 for Outstanding Service to the Literary Community, he proudly underscored Scholastic's "link between the child, the school, and the book," observing, "Research says that if children choose and own their books, they are much more likely to finish them."
The thoughts of all of us in our PRH community are with Dick Robinson's family and with our colleagues at Scholastic in honoring the life of a transformative children's books leader who held the bar of publishing achievement high for all of us.
Posted: June 7, 2021