Screen Adaptation of ONE OF US IS LYING Debuts on Peacock TV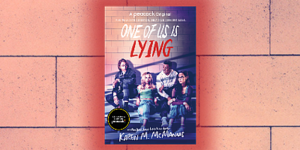 Bayview High is now on screens nationwide with Peacock's television adaptation of Karen M. McManus' # 1 New York Times bestselling novel ONE OF US IS LYING. Thursday, October 7, marks the launch of the first three episodes of this iconic story that will keep viewers captivated as they immerse themselves in the story of four students fighting to prove that they are innocent in the murder of their fellow classmate. For the many existing fans of the book as well as teens and adults looking for another binge-worthy series, Delacorte Press will publish a special hardcover edition of the book featuring cover art from the show on sale November 30.
In ONE OF US IS LYING, on a Monday afternoon, five students at Bayview High walk into detention. There's Bronwyn, the brain, Yale-bound and never breaks a rule. Addy, the beauty, is the picture-perfect homecoming princess. Nate, the criminal, is already on probation for dealing. Cooper, the athlete, is the all-star baseball pitcher. And Simon, the outcast, is the creator of Bayview High's notorious Gossip app – where people's deepest, darkest, secrets are revealed. Before detention's end, Simon will be dead. And according to investigators, his death wasn't an accident. Only, Simon's death doesn't stop his app from revealing the Bayview gossip. And on Tuesday, he'd planned to post juicy reveals about all four of his detention-going classmates. Secrets that could ruin their lives and squash their dreams. Someone in that room is the killer— and everyone has something to hide.
The ONE OF US IS LYING series stars Annalisa Cochrane (Addy), Chibuikem Uche (Cooper), Marianly Tejada (Bronwyn), Cooper van Grootel (Nate), Barrett Carnahan (Jake), Mark McKenna (Simon), Melissa Collazo (Maeve), and Jessica McLeod (Janae). The 8-episode season rolls over the course of three weeks, with new episodes dropping in batches on Thursdays (October 7, 14 and 21).
Watch the trailer below:
Posted: October 7, 2021