Sebastian Barry is First Double Winner of the Walter Scott Prize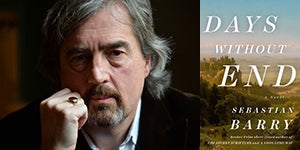 Viking/Penguin author Sebastian Barry's novel, DAYS WITHOUT END, has won the Walter Scott Prize, awarded annually to the best UK, Irish and Commonwealth novel set at least 60 years ago.  Mr. Barry is the first double winner of the Scott Prize, which he previously won in 2012 for his novel, ON CANAAN'S SIDE. 
"It's difficult to itemize my simple childish joy at receiving this prize; that the judges did all this work to make a 61-year-old man feel 12 again," said Mr. Barry.
The judges commented: "With all seven books on the shortlist having strong supporters on the judging panel who championed their cause in a protracted and passionate debate about the nature and purpose of historical fiction, the very books themselves seemed to fight tooth and nail for the accolade.  Eventually, DAYS WITHOUT END took the lead, for the glorious and unusual story; the seamlessly interwoven period research; and above all for the unfaltering power and authenticity of the narrative voice, a voice no reader is likely to forget."
Narrated by Irish immigrant Thomas McNulty, who has fled the Great Famine in Ireland for the United States, DAYS WITHOUT END takes in an epic sweep of his adopted land's history and landscape.  McNulty and his lover John Cole travel the country in the 1850s to fight in the American Indian wars and ultimately the Civil War.
The Walter Scott Prize is the second major accolade for DAYS WITHOUT END this year, after the novel won the Costa Book of the Year award in January (read the Igloo article here.) The Costa judges called it "a miracle of a book – both epic and intimate – that manages to create spaces for love and safety in the noise and chaos of history."
Posted: June 20, 2017