Seth Rogen Narrates His YEARBOOK Audio With a Cast of 80+ Voices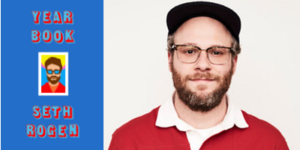 Beloved and prolific multi-hyphenate Seth Rogen leads a full cast of more than 80 narrators for the audiobook of his debut collection of hilarious and insightful personal essays, YEARBOOK, from Random House Audio, an imprint of the Penguin Random House Audio Publishing Group (published in hardcover and eBook formats by Crown). The 83 total voices that can be heard on YEARBOOK puts this production in the company of PRH Audio's Beastie Boys Book (44 voices), Four Hundred Souls (87 voices) and Lincoln in the Bardo (166 voices).
Alongside Rogen's narration, the audiobook's dialogue is read by a diverse roster of special guests, including Rogen's friends and family; fellow comedians such as Nick Kroll, Jay Pharoah, Jason Segel, Dan Aykroyd, Ike Barinholtz, and Sacha Baron Cohen; plus notable personalities who themselves have cameos in the book, including Snoop Dogg and Billy Idol.
This immersive production evokes Rogen's experiences growing up in Canada (including hanging out behind the 7-Eleven, which was as dangerous as a saloon in a Western movie), doing stand-up comedy as a teenager, moving to L.A. after being cast in Freaks and Geeks (a city where he would meet many of his heroes, and learn firsthand why that's inadvisable), and making movies (from Superbad to The Interview) like the ones he grew up loving, complete with sound effects. Along the way he muses on the importance of picking the best slow song to dance to at a bar mitzvah; recounts the time he and his friends had to be rescued from a Jewish Summer Camp Tiyul gone horribly wrong; and, he admits, tells "way more stories about doing drugs than my mother would like."
The YEARBOOK audio full cast features Seth Rogen, with Vikas Adam, Jason Alexander, MacLeod Andrews, Eric B. Anthony, James Anthony, Tom Antonellis, Brian Arens, Dan Aykroyd, Ike Barinholtz, Noah Bentley, Buzz Blackburn, Cassandra Campbell, Alan Carlson, Hannah Choi, Tommy Chong, Sacha Baron Cohen, Lise Coyle, Nick Damiani, Lauri Jo Daniels, Inés del Castillo, Sabina Demidovich, Giordan Diaz, James DiGiacomo, Snoop Dogg, Andrew Fetherolf, Dylan Frankel, Jono Freedrix, Elan Garfias, Lee Goettl, Evan Goldberg, Michel Gondry, Christopher Grove, Simon Helberg, Hillary Huber, Kyle Hunter, Billy Idol, Ray James, Lori Ada Jaroslow, Gregory Jones, Jim Kaplan, Vincent Kartheiser, Terrence Kidd, Ami Korn, Nick Kroll, David Krumholtz, Helen Laser, Raymond J. Lee, Darryl Lenox, Teri Linden, Eric Jason Martin, Katharine Lee McEwan, Miles Meili, Todd Menesses, Scott Miller, Raymond Ochoa, Gaye Pardo, Ronald Peet, Jay Pharoah, Mark Pooley, Will Reiser, Andrew Rich, Christopher Paul Richards, Danya Rogen, Lauren Miller Rogen, Mark Rogen, Sandy Rogen, Tara Sands, Paul Scheer, Samba Schutte, James Scofield, Wesley Scott, Jason Segel, Ariel Shaffir, Mike Shapiro, Rob Shapiro, James Sie, Martin Starr, Nick Thurston, Kiff VandenHeuvel, Byron Wagner, Paul-Mikél Williams, and Mirron Willis.
PRH colleagues can listen to YEARBOOK as part of PRH Audio's "Books for Review" on Volumes, an app for iOS and Android developed by PRH Audio. If you have not already done so, download the Volumes app here. Register within the app using your @penguinrandomhouse.com or @dk.com e-mail address and you will be able to access a curated list of new or soon-to-be -released audiobooks each month.
Posted: May 24, 2021