'Seven Empty Houses' and 'The Books of Jacob' NBA 2022 PRH Translated Semi-Finalists; Cortez, Olds Longlisted for Poetry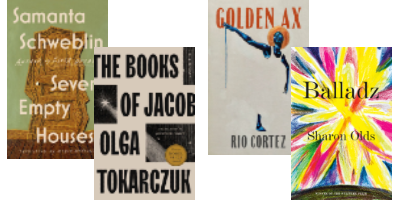 Following the September 14 presentation of the Young People's Literature long list, the National Book Foundation serially spotlighted its 2022 semi-finalists in Translated Literature (September 14) and Poetry (September 15), two categories of both past triumph and disappointment for us. Last year, we did not compete in either category. This year, happily, two of our titles are contending in the former group; two in the latter.
Translated Literature
SEVEN EMPTY HOUSES by Samanta Schweblin, Translated from the Spanish by Megan McDowell (Riverhead Books hc and ebook; Penguin Audio)
THE BOOKS OF JACOB by Olga Tokarczuk, Translated from the Polish by Jennifer Croft (Riverhead hc and ebook; Penguin Audio)
Olga Tokarczuk was a finalist in the category in 2018, as was her translator Jennifer Croft, and was a 2019 longlister.
A Translated Literature NBA champion, in 2020, Riverhead published the category winner: TOKYO UENO STATION by Yu Miri, translated from the Japanese by Morgan Stiles.
Rooting hard Riverhead's category mojo carries forward for 2022.
Poetry
GOLDEN AX by Rio Cortez, (Penguin Books pb & ebook; Penguin Audio)
BALLADZ by Sharon Olds, (Knopf hc, ebook, & pb; Random House Audio)
Congratulations all around.
Onto the October 4 shortlists.
Next-up NBA Semi-finalist presentation: Nonfiction (September 15 afternoon).
Posted: September 15, 2022