Seventeen-Year-Old Actress & Influencer Jenna Ortega Shares Personal Reflections in New Book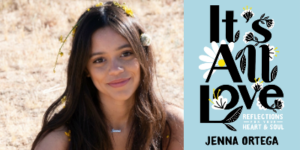 Seventeen-year-old Latinx actress and social media personality Jenna Ortega opens up about depression, heartbreak, navigating Hollywood as a POC, and more in her inspirational nonfiction book IT'S ALL LOVE: Reflections for Your Heart & Soul, it was announced by Michelle Nagler, Vice President & Associate Director, Random House Books for Young Readers. This collection of uplifting quotes and anecdotes for teens will be published by Random House Books for Young Readers, an imprint of Random House Children's Books, on January 5, 2021. Sara Sargent, Senior Executive Editor, acquired world rights from Cait Hoyt at Creative Artists Agency and will edit the project.
Known for her roles on Netflix's You, The CW's Jane the Virgin, and Disney Channel's Stuck in the Middle, as well as the upcoming fifth Scream movie (premiering in 2021), Jenna Ortega shares her personal struggles and journey in IT'S ALL LOVE. Combining spirituality and self-help, the book offers a moving and relatable take on challenges many teens face and offers guidance on how to learn to heal. For the first time, Jenna makes public her experiences with depression, family estrangements, love, the complicated nature of building a career in Hollywood as a POC, and more. The beautifully designed interior spreads will feature a deeply personal quote from Jenna on one side and a short paragraph on the next page to contextualize the inspiration and message behind the quote.
Everything I do is driven by love.
"The way I interact with the world—my work, interacting with people, decision-making—comes from a place of love and light. Especially when it comes to talking about politics, current events, and social justice. I speak out in a positive way out of a place of love to bring people together in discussing important issues without hatred."
Says Ortega: "As a generally private person with a very public career, and also a teenager living through this complex time, I'm constantly being asked about experiences I've had and how I navigated my mindset. I didn't really have an elementary answer, so I wrote a book instead. I think it's critical to remember I am just a teen who is continually evolving and forming every day, and there's so much I am unsure about. But that's all right. For anybody else who is struggling with discovering themselves, I've written down some of my mistakes and a few of my life-altering experiences that made me perceive things differently in an attempt to make anybody else's process slightly easier."
"Jenna Ortega is such a talented yet relatable actor, and we're so excited to be working with her on this project," says Sargent. "The book's message of love and inner strength is something readers of all ages will connect with. And it feels especially important right now to give voice to the experience of being a young woman of color in Hollywood."
Jenna Ortega is an award-winning actress and social-media superstar. Jenna's rise to stardom began in 2014 when she was cast as Young Jane in the Golden Globe–nominated series Jane the Virgin. She was the lead of Disney Channel's Stuck in the Middle from 2016 to 2018, and joined the cast of Netflix's You in 2019. Jenna also voices one of the main characters on Disney Junior's animated series Elena of Avalor. Jenna has 5 million followers on Instagram, her biggest platform. Additionally, Jenna routinely partners with charitable organizations such as the National Bullying Prevention Center, the AIDS Healthcare Foundation, and the Geena Davis Institute. Jenna, who identifies as Latina, is of Mexican, Mexican American, and Puerto Rican descent.
Author photo credit: Maria Lopez
Posted: August 25, 2020