Shamsi-Basha and Latham to Launch THE CAT MAN OF ALEPPO via Facebook Live (5/9)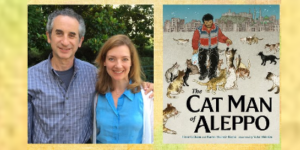 Karim Shamsi-Basha and Irene Latham, co-authors of THE CAT MAN OF ALEPPO (Putnam Books for Young Readers),will participate in a virtual launch event hosted by the Alabama Booksmith via Facebook Live on Saturday, May 9, at 3:05pm (ET).
THE CAT MAN OF ALEPPO, illustrated by Yuko Shimizu, is the courageous and true story of Mohammad Alaa Aljaleel, who in the midst of the Syrian Civil War offered safe haven to Aleppo's abandoned cats.
"With meticulous care, Shimizu draws the destroyed buildings, the empty streets, and the cats that fleeing Syrians have left behind . . . Latham and Shamsi-Basha pick out the glimmers of light that make up Alaa's story, and Shimizu portrays their beauty." —Publishers Weekly, starred review
As a reminder, if you are a PRH employee posting to a personal or other non-PRH account, you must include the hashtag #TeamPRH !! 
Posted: May 8, 2020