Shane Bauer Wins RFK Human Rights Book Award for AMERICAN PRISON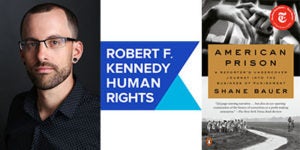 Robert F. Kennedy Human Rights announced the 2019 recipients of its 2019 Book & Journalism Awards, and the RFK Book Award went to Penguin Press author Shane Bauer for AMERICAN PRISON: A Reporter's Undercover Journey into the Business of Punishment. Robert F. Kennedy Human Rights President Kerry Kennedy said, "Shane Bauer's riveting expose of the criminal legal system exemplifies my fathers' moral imagination. This year's journalists serve our country with undaunted bravery at a time when those who speak truth to power are dismissed as dissidents rather than lauded as the patriots they are."
The Book Award was chosen from a field of nearly 100 applicants. Judges for the award included historian and author Ted Widmer; Georgetown University Law Professor and author, Peter Edelman; and Harvard University Law Professor, Annette Gordon Reed.
Mr. Bauer, along with the journalism award winners, will be honored at a ceremony on May 23 at the Newseum in Washington, D.C.
Our congratulations to Mr. Bauer, his editor, Scott Moyers, and all of our Penguin Press colleagues.
Posted: May 7, 2019