Sharon Stone Memoir to be Published by Knopf in March 2021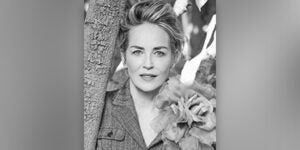 The actress and human rights activist Sharon Stone has written a memoir that will be published by Alfred A. Knopf next March. THE BEAUTY OF LIVING TWICE  will be released simultaneously in hardcover and as an eBook, and also as an audiobook, read by Stone. The announcement was made today by Knopf Publisher, Reagan Arthur. The deal was negotiated by Knopf Senior Editor Tim O'Connell, with Luke Janklow of Janklow & Nesbit, with the book edited by O'Connell and Anna Kaufman for Knopf. 
In THE BEAUTY OF LIVING TWICE, Stone writes with candor about her life and career, from her childhood in Pennsylvania to her rise as one of Hollywood's most celebrated actresses. She writes in chilling detail about the day she nearly died from a massive stroke and about the effects that stroke had on her health and family and on her fame and fortune. Stone talks about the many roles she played, her life-changing friendships, and her accomplishments and disappointments. Stone in these pages echoes the Stone who made headlines throughout her career: she is courageous, honest, and outspoken, refusing to pull any punches when discussing aspects of the trauma and violence she endured as a child and how her chosen career as an actress echoed many of those same assaults. Finally, she describes the strength she draws from her children and the meaning she has found in her humanitarian efforts.
"This is one the bravest memoirs I've ever read," said Tim O'Connell. "It's a celebration of strength and resilience, a reckoning, and a call to activism."
Sharon Stone is an actress, human rights activist, artist, mother, daughter, sister, and writer. She has been honored with a Peace Summit Award at the Nobel Peace Summit, a Harvard Foundation's Humanitarian Award, a Human Rights Campaign Humanitarian Award, and an Einstein Spirit of Achievement Award. She currently lives in Los Angeles with her family.
Sharon Stone photo credit: Michael Muller
Posted: August 11, 2020