"She Persisted" Panel to Feature Chelsea Clinton and Andrea Davis Pinkney via Zoom (1/7)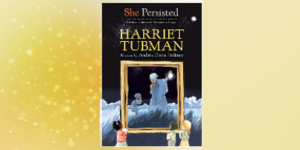 Join Politics & Prose and the Persisterhood for an inspiring conversation and Q&A with Chelsea Clinton and award-winning authors Andrea Davis Pinkney, Lesa Cline-Ransome and Atia Abawi, as they discuss Penguin Young Readers' new She Persisted chapter book series featuring female trailblazers Harriet Tubman, Claudette Colvin and Sally Ride, with moderator Deborah D. Taylor at a Politics & Prose Live! virtual event via Zoom on Thursday, January 7 at 6:00 pm (ET).
Inspired by the bestseller SHE PERSISTED: 13 American Women Who Changed the World by Chelsea Clinton and illustrated by Alexandra Boiger, comes a chapter book biography series about women who stood up, spoke up, and rose up against the odds. Launching the series is the story of Harriet Tubman, the most famous conductor on the Underground Railroad and leading abolitionist of her time. Guided by the love of her family and sense of justice, this story of Harriet's courage and grit during hard times is written by Andrea Davis Pinkney.
Soon to follow are biographies of monumental Civil Rights activist Claudette Colvin, only 15-years old when she stood up against segregated buses in Montgomery, Alabama, and pioneering astronaut, Sally Ride, the first American woman in space. Lesa Cline-Ransome brings Claudette's story to life. Atia Abawi pens the meteoric story of Sally Ride.
Chelsea Clinton is the author of the bestselling picture book She Persisted: 13 American Women Who Changed the World, which was praised as a "lovely, moving work of children's literature [and a] polished introduction to a diverse and accomplished group of women." In addition to the books she has co-written with her mother, Hilary Clinton, she is the author of She Persisted in Sports; Don't Let Them Disappear; Start Now! You Can Make a Difference; She Persisted Around the World: 13 Women Who Changed History and other inspiring titles. Chelsea Clinton is the Vice Chair of the Clinton Foundation, where she works on many initiatives including those that help to empower the next generation of leaders.
In addition to her work as an author with books such as Loretta Little Looks Back and The Red Pencil, Andrea Davis Pinkney has had an illustrious career as a children's book publisher and editor. She frequently contributes to the New York Times, Huffington Post, Essence, Bustle, and the Creativity Project.
Lesa Cline-Ransome focuses on uncovering the hidden stories in American history. She is best known for her NAACP Image Award-nominated picture book biography of Harriet Tubman, Before She Was Harriet, and her middle grade novel Finding Langston.
Atia Abawi is a journalist, foreign correspondent, and author. She is the critically acclaimed author of The Secret Sky and A Land of Permanent Goodbyes. She is known for her strong support for female empowerment in both her writing and reporting.
Deborah D. Taylor recently retired from the Enoch Pratt Free Library in Baltimore, MD. She has chaired and served on many American Library Association committees and on the National Book Awards Jury for Young People's Literature. She was named the 2015 recipient of the Coretta Scott King/Virginia Hamilton Award for Lifetime Achievement. She is a reviewer and an adjunct professor teaching young adult literature at the University of Maryland, College of Information Studies.
!! As a reminder, if you are posting to a personal or other non-PRH account you must include the hashtag #TeamPRH !!
Posted: January 5, 2021