Silko, Kotlowitz, Luiselli American Academy of Arts and Letters Awards Winners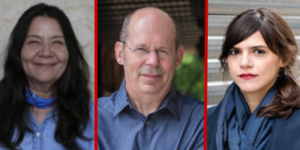 The American Academy of Arts and Letters has announced its 2020 awards, and Penguin Random House authors Leslie Marmon Silko, Alex Kotlowitz and Valeria Luiselli were among the prize winners.
Ms. Silko won the Christopher Lightfoot Walker Award, a $100,000 biennial award recognizing a writer of fiction or nonfiction who has made a significant contribution to
American literature. A Penguin novelist and poet, Silko is best known for her books Ceremony, Storyteller, and Almanac of the Dead. Her writing is heavily influenced by her mixed heritage of Laguna Pueblo, Mexican and Anglo-American.
Mr. Kotlowitz received the Harold D. Vursell Memorial Award, a $20,000 prize recognizing the quality of a writer's prose style. The Anchor author's books include An American Summer: Life and Death in Chicago, The Other Side of the River, and There Are No Children Here, which the New York Public Library selected as one of the 150 most important books of the twentieth century.
Ms. Luiselli received a $10,000 prize for "a young writer of considerable literary talent" for her Vintage novel, Lost Children Archive.
Our congratulations to Ms. Silko, Mr. Kotlowitz and Ms. Luiselli, and to their editors and publishers.
To view the complete list of this year's Arts and Letters Award winners, click here.
Posted: March 12, 2021