Sister Helen Prejean to Share Her Spiritual Journey via TownHallSeattle.org (5/22)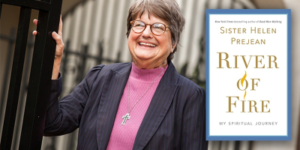 Sister Helen Prejean, author of RIVER OF FIRE: My Spiritual Journey (Random House) , will discuss her book and spiritual quest to end the death penalty at a virtual event, presented by Seattle University and Town Hall, in partnership with Elliot Bay Book Company, via townhallseattle.org on Friday, May 22, at 10:30pm (ET).
The nation's foremost leader in efforts to abolish the death penalty shares the story of her growth as a spiritual leader, speaks out about the challenges of the Catholic Church, and shows that joy and religion are not mutually exclusive.
Sister Helen writes about the relationships with friends, fellow nuns, and mentors who have shaped her over the years. In this honest and fiercely open account, she writes about her close friendship with a priest, intent on marrying her, that challenged her vocation in the "new territory of the heart." The final page of RIVER OF FIRE ends with the opening page of Dead Man Walking, when she was first invited to correspond with a man on Louisiana's death row.
RIVER OF FIRE is a book for anyone interested in journeys of faith and spirituality, doubt and belief, and "catching on fire" to purpose and passion. It is a book, written in accessible, luminous prose, about how to live a spiritual life that is wide awake to the sufferings and creative opportunities of our world.
!! As a reminder, if you are a PRH employee posting to a personal or other non-PRH account, you must include the hashtag #TeamPRH !! 
Posted: May 21, 2020