SJP for Hogarth Author Claire Adam Wins Desmond Elliott Prize for GOLDEN CHILD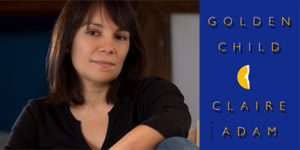 Claire Adam has won the 12th annual Desmond Elliott Prize for her debut novel, GOLDEN CHILD, published in the U.S. by SJP for Hogarth. Adam takes home the £10,000 (about $12,700) prize, which the Daily Telegraph calls the "UK's most prestigious award for first-time novelists."
Set against the backdrop of the colorful but dangerous Trinidad of Adam's own childhood, GOLDEN CHILD tells of Clyde Deyalsingh's relationship with his sons Peter and Paul, twins who are in no way alike – the one driven, academically gifted, the other a dreamer, indecipherable. When the "misfit" Paul is abducted, Clyde must race to save the son he has never understood.
The book was chosen as the most outstanding debut of the year by a trio of judges chaired by Alan Hollinghurst, a 2004 Man Booker Prize winner, who was joined by Robbie Millen, literary editor of The London Times, and Meryl Halls, managing director of the Booksellers Association.
In a speech at the award ceremony, Mr. Hollinghurst said, "The Desmond Elliott Prize is about more than winning: it's about attending to, and tending for, the newcomers — and over its twelve years it has shone the warmth of its attention on a marvelous body of work, creating a kind of informal community of the strongest new talent, many of whom have already gone on to do even finer things.
"Our 2019 winner Claire Adam demonstrates masterly control as she details the tragic fracturing of a family, and the beauty and the latent violence of her Trinidadian setting are miraculously vivid. Her novel combines the harsh force of a fable with the unforgettable strangeness of real life and – like all the very best debuts – GOLDEN CHILD gives a sudden and enlightening view of both a new subject and a new mind."
Claire Adam was born and raised in Trinidad. She studied Physics at Brown University and later took an M.A. in Creative Writing at Goldsmiths, University of London. She currently resides in London.
Our warm congratulations to Ms. Adam and everyone at SJP for Hogarth.
Posted: June 21, 2019