Skip Dye Promoted to SVP, Library Sales and Digital Strategy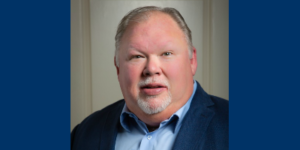 Dear Colleagues,
I am pleased to announce the promotion of SKIP DYE to Senior Vice President, Library Sales and Digital Strategy, Penguin Random House, effective immediately, continuing to report to me. He also retains his current dual responsibilities as Senior Vice President, Director, Sales Operations.
Skip is widely beloved by the library community nationwide as one of its greatest champions and advocates. To walk the floor of a library conference with Skip is to see firsthand the tremendous trust and respect in which he is held by librarians and their allied organizations. Skip is an industry leader who has helped build policies, sales terms and practices, and programs that support the mission of public libraries in their communities, which expand the reach of our books. He passionately believes in the power of libraries to grow literacy, and has worked tirelessly to partner with them as they face new and complex challenges, such as their efforts to advance library e-lending and digital outreach among their constituencies. Recently retired from his position as United for Libraries President, he is currently active in multiple cross-industry projects, which focus on strategic planning to position public libraries for long-term health and success, as our marketplace and the needs of librarians and their patrons, continue to evolve.
Here at Penguin Random House, Skip has built a powerhouse Library Marketing team widely acclaimed for their innovative marketing programs and deep commitment to growing library sales across physical, audio, and digital formats. Working closely with Carmela Iaria and Adrienne Waintraub, Skip's team has consistently created groundbreaking initiatives that increase discovery of our books and authors, resulting in long-term sales, and an ever-expanding readership for their work.
Having joined Bantam Doubleday Dell in 1996 as Vice President, Special Markets, Sales Administration and Sales Automation, Skip has simultaneously held a variety of escalating leadership positions in Sales. He has become a trusted adviser to colleagues in Sales, Operations and Publishing, invaluably assisting us in navigating an increasingly complex marketplace. Whether it's the digital transformation of reading and listening, the integration of Penguin Random House in 2013, or the ever-changing landscape of patron outreach, Skip has embraced every challenge, and along with that, has consistently found new opportunities to build a larger audience for books in every category, for every reader.
Please join me in congratulating Skip.

Jaci Updike
President, Sales
Penguin Random House U.S.
Posted: October 7, 2019