Sneak Peek: Penguin Random House at AFROPUNK BROOKLYN 2022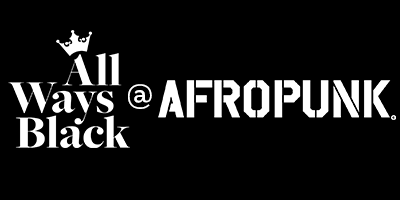 Penguin Random House is once again sponsoring AFROPUNK and will be the sole book publisher at their first in-person NYC festival since 2019 this weekend, September 10-11, at Commodore Barry Park in Brooklyn.  AFROPUNK represents an influential community of gifted creatives from all backgrounds who express themselves through music, art, film, books, comedy, fashion and more.  Originating with the 2003 documentary that highlighted a Black presence in the American punk scene, AFROPUNK is actively redefining the urban experience by centering the unwritten, unwelcome, and unheard-of.
A packed schedule of author signings, giveaways, and activities, centered around platform and brand extension All Ways Black, are scheduled to take place at the Rock N' Read tent at AFROPUNK BROOKLYN.
Check out our author schedule, giveaways, book recommendations and more on our dedicated event page here.
Festival attendees will have the opportunity to meet authors, buy books, grab some free giveaways and swag, and even share their favorite thing about being Black on our post-it wall (the final question at the end of every I Can't Believe This Lit interview). In addition to our authors, All Ways Black Curator Cree Myles will be around throughout the weekend to engage with fans and new readers alike. With our incredible lineup of authors and activities, seen in the schedule below, it's sure to be a hit!
Saturday, September 10th
 @1:00 PM Free Copies of Patrice Caldwell's THE PHOENIX FIRST MUST BURN
@1:30 PM Free Advance Copies of Nana Kwame Adjei-Brenyah's CHAIN-GANG ALL-STARS
@2:00 PM Free Advance Copies of Laura Warrell's SWEET, SOFT, PLENTY RHYTHM
@3:00 PM Free Advance Copies of Jonathan Abram's THE COME UP
@3:30 PM Author Robert Jones Jr. signing free copies of THE PROPHETS
@4:30 PM Free Advance Copies of Karen Strong's COOL. AWKWARD. BLACK.
@5:00 PM Author Omar Epps signing free advance copies of NUBIA: THE AWAKENING
@6:00 PM Free Advance Copies of Krystal Marquis's THE DAVENPORTS
@6:30 PM Author Ian Manuel signing free copies of MY TIME WILL COME
@7:30 PM Author Hafizah Augustus-Geter signing free advance copies of THE BLACK PERIOD
Sunday, September 11th
@1:00 PM Author Vallery Lomas signing free copies of LIFE IS WHAT YOU BAKE IT
@1:30 PM Free Advance Copies of Bozoma Saint John's THE URGENT LIFE
@2:00 PM Author Mahogany Brown signing free copies of CHLORINE SKY
@3:00 PM Free Advance Copies of Camryn Garrett's FRIDAY I'M IN LOVE
@3:30 PM Author Jasmin Mans signing free copies of BLACK GIRL, CALL HOME
@4:30 PM Free Advance Copies of Aislinn Brophy's HOW TO SUCCEED IN WITCHCRAFT
@5:00 PM Author Nicole Ellis signing free copies of WE GO HIGH
@6:00 PM Free Advance Copies of Janelle William's GONE LIKE YESTERDAY
@6:30 PM Authors Kimberly Drew and J Wortham signing free copies of BLACK FUTURES
@7:00 PM Free Copies of Edward Enninful's A VISIBLE MAN
Posted: September 7, 2022