Soar with Reading: RHCB Brings 100,000 Free Books to Kids in South Florida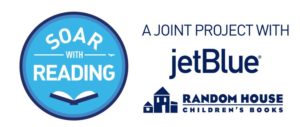 Random House Children's Books and JetBlue have launched the seventh annual Soar with Reading initiative, which provides age-appropriate books to children who need them most. This summer the program lands in Fort Lauderdale, Florida, with JetBlue installing four custom vending machines throughout the city to distribute 100,000 books, free of charge. The vending machines include a variety of children's books. The newest enhancements to the program are the addition of bilingual (Spanish/English) books and, given research supporting higher reading scores among students who see their parents reading, the inclusion of a selection of titles appealing to parents.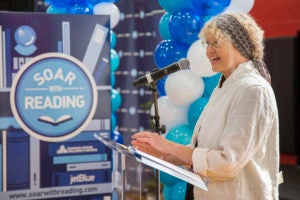 "We know that access to books is a foundational necessity for children in order for them to achieve success inside and beyond the classroom," said Barbara Marcus, President and Publisher, Random House Children's Books. "Books allow children and adults to explore the far reaches of their imaginations, and we are thrilled to be part of the JetBlue program, which provides young people with the opportunity to experience that adventure, regardless of where they live."
To celebrate this year's Soar with Reading launch, actress and singer Victoria Justice and renowned Magic Tree House author Mary Pope Osborne joined JetBlue, Random House Children's Books, and the city of Fort Lauderdale at a celebration to reveal the book vending machines and allow young residents to select their first free books. Victoria Justice, a South Florida native, and Ms. Osborne, whose bestselling series continues this August with A BIG DAY FOR BASEBALL and the new nonfiction book BASEBALL, will support the program throughout the summer by encouraging participation in the #BookBattle. Random House Children's Books authors Judd Winick (Hilo series), R. J. Palacio (WONDER), and Chris Grabenstein (Mr. Lemoncello's Library series) and illustrator Christian Robinson (LITTLE PENGUINS) are also active members of the campaign, helping to generate awareness for the program and spark online voting in each #BookBattle city.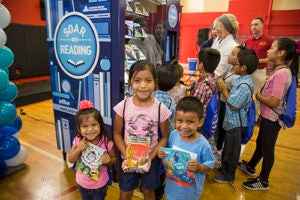 Last summer, JetBlue's vending machine program visited Detroit. During that time, the annual online #BookBattle voting competition also took place, where JetBlue's customers and crew members and the local community overwhelmingly voted for Fort Lauderdale to receive 100,000 free children's books in 2017. This year, four cities—Boston, Los Angeles, New York, and San Francisco—will go head-to-head in the national online #BookBattle to receive the 2018 donation. Voting is open at SoarwithReading.com through August 31. For the first time, anyone who casts a vote online will also receive a special 99¢ digital children's book from Penguin Random House.
Posted: July 10, 2017