Song and Story Festival to Launch Emily M. D. Scott's Debut Memoir via Zoom (5/12)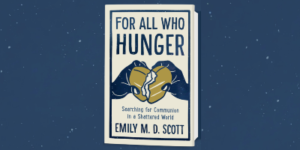 Seven acclaimed writers, theologians, and singers come together to celebrate the launch of Emily M. D. Scott's debut memoir, FOR ALL WHO HUNGER: Searching for Communion in a Shattered World (Convergent) at a virtual Song and Story Festival, co-presented by Greenlight Books, St. Lydia's Church, and Judson Memorial Church, via Zoom on Tuesday, May 12 at 7:00pm (ET).
Through poetry and music, humor and scholarship, the featured guests, also including Nadia Bolz-Weber and R. Eric Thomas, will share a reflection on the theme of "hunger," a driving theme of Scott's work. In addition to music and readings, the evening will include dialog among the presenters, questions from the participants, and even a song to carry home.
Emily M. D. Scott founded St. Lydia's Dinner Church, a progressive, LGBTQ+-affirming congregation in Brooklyn, New York, where worship takes place around the dinner table. Scott never planned on becoming a pastor. But when she started a church for misfits, she discovered an unlikely calling—and an antidote to modern loneliness. With tenderness and humor, in FOR ALL WHO HUNGER Scott weaves stories and reflections from the life of her unlikely congregation while articulating the value of church as a place where people can hear not only that they are loved but that they are good.
!! As a reminder, if you are a PRH employee posting to a personal or other non-PRH account, you must include the hashtag #TeamPRH !! 
Posted: May 11, 2020