Sonny Mehta Receives Maxwell E. Perkins Award from the Center for Fiction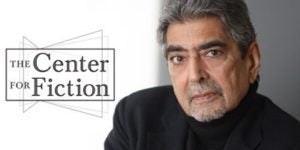 At its Annual Benefit & Awards Dinner on Tuesday, December 11, the Center for Fiction presented awards to Sonny Mehta, Chairman and Editor in Chief of the Knopf Doubleday Publishing Group, and to Penguin Random House authors Toni Morrison and Tommy Orange. Event co-chairs and renowned authors Lee Child and Michael Ondaatje welcomed the hundreds of guests who gathered to celebrate these talents at the benefit, which was held in New York.
Introduced by best-selling Penguin Random House author Carl Hiaasen, publishing industry luminary Sonny Mehta received the Maxwell E. Perkins Award, which honors "the work of an editor, publisher, or agent who over the course of his or her career has discovered, nurtured and championed writers of fiction in the United States." Mehta, long renowned for his impeccable taste, curious nature, and unending commitment to both authors and readers, is the embodiment of this prestigious accolade, which Hiaasen echoed in his introduction, "I can't think of anyone in the world of publishing who deserves the Maxwell E. Perkins Award more than he does."
Accepting the award, Mehta shared how the immersive and transportive power of books has been a constant source of comfort in his life, from his nomadic childhood moving around the world with an ambassador father, to being the Editor in Chief and Chairman of one of the industry's most revered literary publishers.
"I don't think you can work in this business without faith or optimism," said Mehta. "Reading a manuscript, sensing something special about it, and believing you can find a readership for it, is an article of faith. In publishing, belief is the common denominator. I have always been a believer, and remain so today."
Mehta's unrivaled literary sensibility and respectful approach to the writing process was expressed in written tributes from some of his authors, including Kazuo Ishiguro, a winner of the Nobel Prize in Literature, who said "There are some very good publishers in this world. Sonny Mehta is a great one." Anne Tyler said, "Whenever I hear someone say that there really are no editors anymore (and I do hear that, fairly often), I like to imagine Sonny up there in New York, performing his light-footed dance at Alfred A. Knopf."
Erroll McDonald, Vice President and Executive Editor, Knopf Doubleday Publishing Group, and Chair of the Center for Fiction, announced the inaugural Lifetime of Excellence in Fiction Honor to Toni Morrison. Although she was unable to attend, McDonald expressed on Morrison's behalf her deepest appreciation for readers' passionate embrace of her lifework. McDonald stated that Morrison is a "living genius of imaginative prose of any kind, whose work has had profound and lasting impact on culture, and whose influence is evermore about to be."
Oprah Winfrey appeared in person and spoke about Morrison's lifetime literary achievement, following a brief clip from the upcoming documentary by Timothy Greenfield-Sanders, "Toni Morrison: The Pieces I Am," which premieres next month at the Sundance Film Festival.
Winfrey, a longtime admirer of Morrison, recalled the first time she tried to speak to the author was after reading her novel BELOVED. She said she had to contact the local fire department to get Morrison's unlisted phone number. Winfrey went on to say that Morrison is more than the countless accolades she has received and that her exhilarating, honest, empowering work has fundamentally changed the American literary landscape. "There's no doubt that Toni Morrison is the empress supreme of doing language. And I'm here tonight simply to say…Long. May. She. Reign."
Tommy Orange, author of the best-selling and critically acclaimed book THERE THERE (Knopf), was awarded the Center for Fiction's 2018 First Novel Prize. Presented annually to the year's best debut novel, it comes with a $10,000 cash prize. Julie Lekstrom Himes, last year's winner, presented Orange with the award. In his remarks, Orange thanked his wife and son, as well as his editor Jordan Pavlin, and publicist Gabrielle Brooks, and also Knopf and Penguin Random House for their "undying support." Orange concluded by thanking the Oakland Native community, "without whom this book would not exist."
To watch the Benefit & Awards Dinner, please click here.
Writers on Sonny Mehta:
JOHN BANVILLE
I first met Sonny on a bright autumn Monday many years ago, when the world was young, or at least a lot younger than it is today. It was by coincidence that we were both in London, to do who knows what. We had arranged to have lunch, but when I called to his flat in Mayfair—one's publisher should always have a flat in Mayfair—Sonny was apologetic: since it was a bank holiday, our choice of restaurant was limited. He suggested we might try the Fifth Floor in Harvey Nichols department store. Harvey Nicks, it turned out, was just fine, especially for a country mouse over from Dublin for the day.
Publishers, in my experience of them up to then, were a rum lot, morose, resentful and, in many cases, great haters of books and bookmen. Sonny, I knew straight away, was to be the glorious exception. He loves books, their content, their design, the heft of them in the hand. I admired his Paladin imprint, those elegantly tall, narrow paperbacks which enhanced the education of my generation, then Picador, and now Knopf, the house I had wished to be published by since I began to write.
We became friends that day, over a nice bottle of Montrachet, as I recall. To have for a friend the world's finest living publisher and editor was, and is, a privilege precious beyond words. And for a writer to confess himself put beyond words is, I know, a compliment Sonny will appreciate.
PETER CAREY
I met Sonny Mehta at an alcoholic party in a Sydney book shop some time in the late 70's. He was probably sober. He was certainly young, in his thirties I would guess. It was already years since he had commissioned The Female Eunuch and published Fear and Loathing in Las Vegas, both books that had, in quite different ways, changed my world.
Am I permitted to say he wore a white kaftan? No? Well may I say instead that he was now the publisher at Pan in London and as such was the dazzling figure who had just purchased the paperback rights to my first book? I should add, less solipsistically, that he had already made Pan the coolest imprint in my world, not only for its impressive literary taste but for that Mehta trademark: fabulous cover designs.
I have spent much time with Sonny in the last forty years. Sometimes he has been talkative. Sometimes not at all. Being a prickly creature I have not always enjoyed him giving notes, but I have always been thrilled, like a child on Christmas morning, to come into Knopf to see the covers for my latest.
Long may he rule.
ROBERT A. CARO
My relationship with Sonny, during the thirty-one years he has been my publisher, has been very meaningful to me. He understands I am not the most expeditious writer. Every seven or eight years, I will finish a manuscript and send it to him. When we meet to discuss the work, he selects, out of a rather long book, precisely the four or five points I consider most significant. He discusses them in the way I hoped they would be discussed, with a rare literary sensibility and sense of history.
Each of my books has taken a long time to write; never once, in thirty-one years, has Sonny asked me, or had anyone else at Knopf ask me, when I would be finished. That kind of support, rare in this industry, has been a bulwark to me, and to my writing life. Thank you, Sonny, for the discussions, for your patience, and for everything else. With gratitude.
PRESIDENT BILL CLINTON
I am delighted to join in paying tribute to Sonny Mehta as he receives the Center for Fiction's Maxwell E. Perkins Award. If I were to take Sonny's years of stern advice to heart—be brief but show feeling—I'd just say: Hooray. More than well-deserved. I really mean it!
Sorry, Sonny, but that's not enough. Sonny's career has been a gift to book lovers. His passion for the written word, impeccable instincts for emerging writers and fresh stories, and editorial vision have helped bring some of the greatest books of our time into existence. I'm so grateful that I've had the chance to work with him on My Life, Giving, Back to Work, and most recently, The President is Missing, my collaboration with James Patterson. I've benefited enormously from his wisdom, judgement, and always well-timed "get it done" prodding.
Sonny Mehta followed his great gift into a job he was born to do. Somewhere, Maxwell Perkins is smiling: A wind is rising, and the rivers flow.
JOAN DIDION
Sonny has been the ideal publisher for me—supportive at all times, inspiring and patient. There was never a comment if too much time had lapsed between books which it always did. But once I had turned in a manuscript, there would always be a wonderful call which made the agony of writing worth it. The charm and humor did not hurt either.
For the six books I have done with him since 1996, I want to say thank you for everything, and for making it all seem so easy.
OMAR EL AKKAD
The first time I spoke with Sonny Mehta, shortly after he'd decided to publish my novel, our conversation lasted less than five minutes. Of my book, he simply said, "You think you're reading one thing, but you're really reading another." For months prior, I'd tried to find the right way to explain what kind of novel I had tried to write. Sonny did it in a sentence.
For depth and breadth of expertise, intellectual generosity and respect for the craft, Sonny is in my opinion unmatched. To watch him dissect a piece of writing and retrieve its beating heart is to witness a kind of mastery that demands not only decades of experience, but a fierce, limitless curiosity. Regardless of all the publishing industry myth-making that now surrounds him, he is first and foremost someone who simply loves literature. Every time I've ever listened to him talk about a book he admires, I am reminded that what Sonny Mehta derives most from the work he does isn't recognition or compensation or stature, but joy.
Atop a bookshelf in my living room I keep the first copy I ever received of my debut novel. It is my second-most prized possession, after a small congratulatory card that came with the book, signed by the third and current editor-in-chief of Alfred A. Knopf. It's a reminder that I have had the privilege to work with one of the best ever, a man to whom both the business and art of writing owe a debt.
BRET EASTON ELLIS
When I first met Sonny Mehta in the cold spring of 1986 on a brief tour in the UK for Less Than Zero, which he had just published, I remember I was at his house with his wife Gita having drinks when Sonny wanted to know what I would like for dinner—he rattled off a few restaurants and what they served and as a shaggy 22-year-old Southern Californian what I wanted was…sushi, ubiquitous in Los Angeles, but not yet in London. I distinctly remember the startled looks Gita and Sonny shared along with the other guests in the living room, and realized I might have said something wrong, and I said so. But Sonny was completely accommodating, it seemed like it was a challenge that might pay off, and I think it took about an hour to locate a Japanese restaurant that was open and another forty minutes to get there. I don't know why I flash on this whenever I think of Sonny but I remembered it again when Sonny, during the American Psycho controversy after my original publisher had dropped me because of what they saw as offensive content, stepped in and decided to publish a book that had become one of the most reviled novels ever, when he really had no pressure to do so—I think, like that night in London, it was a challenge, and one he put up with including boycotts, packages of meat sent to his office (this was a protest move in 1990), an outraged New York Times who ridiculed him for publishing this junk, "Snuff This Book!" they wailed, and the wrath of Tammy Bruce and the National Organization For Women. (Sonny liked the book and his only editorial comment to the editor taking another pass at it was only three words: "Lose the gerbil." For those of you who have read the book—you know what this means, and that the gerbil remained.) Despite its horrible advance press, the book, due ultimately to Sonny's persistence, sold over a million copies and is still in print, was turned into a successful film by two feminists, Sonny is still around, and I'm publishing a new book with him nearly thirty years later. The only thing that changed? Tammy Bruce crossed the aisle and is now on FOX.
JAMES ELLROY
Sonny Mehta lives in the reality of great books, good books, and exploit-the-zeitgeist books. He commissions them and facilitates them at each and every level. He cultivates authors and seduces them with the Alfred A. Knopf imprimatur. He edits books both aggressively and deferentially. He possesses a singular instinct for his authors' dramatic and thematic intent. His efforts make books better than they appeared to be at the moment of their inception and at all steps on the way to their completion and publication.
His editorial prowess manifests as a brilliantly fired stare upon words on paper. From there, he fixes on the physical design of the book. Sonny Mehta's books are the best-looking books in Alfred A. Knopf's 103-year-old history. His fixed stare moves beyond publication, promotion, accolades or the lack of them. His fixed stare begins to blur only at the point when the reader fans the shark's-tooth pages of a Knopf book and beholds the striking jacket design. That's Sonny Mehta's consummate reality as an editor and publisher. Another book, another contribution to the Knopf canon. It's where he goes mystical and forfeits control of His Book. It's Someone Else's book now.
It will be read and assessed in a multitude of manners that will remain unknown to him. Reading is a solitary pursuit. In his publisher's and editor's half century, Sonny Mehta has steadily fixed his stare upon each and every aspect of the book-spawner's craft. He has illuminated the solitary moments of many thousands of readers and thrilled them, perplexed them, and moved them incalculably. His great gift to this unknown constituency is reciprocated by the simple fact that they've read his books and will continue to read his books in the continuum of books that supersedes all human lifetimes. Thus—hauntedly—the world at large honors him.
KAZUO ISHIGURO
Thirty-one years ago I crossed the floor at a London party and said to Sonny Mehta: 'Sonny, you don't publish me. But I want you to know I owe you a great deal. Because what you've done has made it possible for a writer like me to have a career.'
Maybe this was a good ploy, because less than a year later, he did become my New York publisher, and went about fulfilling that role with a level of obsessive professionalism and recklessly generous hospitality that left me seriously worried about when he slept. On book tours, he and Gita would host me in their apartment for the entire New York leg, personally fussing over my breakfasts and bedding, as well as my publication duties. And during these visits I'd notice how many of what should have been his free hours Sonny devoted to dreaming up some fresh, brilliant strategy to connect a particular author to a wider readership, or to brooding about how another might respond to a negative review due to appear that week.
His corporate responsibilities over the years have changed hugely, but his approach to authors has not. It's one characterized by a near-reverential respect for the writing process and for those who practise it—no matter how difficult or eccentric the individuals may at times become.
And what I'd said to him back then in London was true. His ground-breaking Picador paperbacks had transformed my teenage reading horizons; and he'd been a key player in creating the new climate that received my generation of literary novelists—one that welcomed internationalism, seriousness, ambition, without consigning us to the margins. But it's only now I appreciate the profound effect this man has had on what I've read, what I've written, and how I've written it. And for the last thirty years, he's been with me every step of the way, through set-backs as well as triumphs.
There are some very good publishers in this world. Sonny Mehta is a great one.
HARUKI MURAKAMI, translated by Philip Gabriel
As I recall, it was 1991 when I first met Sonny. At the time, I was living in Princeton, New Jersey and was searching for a new publisher in the U.S. A mutual friend introduced us and I made an appointment to see him.
I don't remember if I drove myself from Princeton to New York, or whether I took Amtrak, but at any rate the two of us met for dinner at a small restaurant in Midtown, then walked to his apartment on the Upper East Side, where we had a couple of drinks. He introduced me to his wife, Gita, too. I remember how quiet and beautifully appointed the apartment was, and the amazing carpets.
What did we talk about? I don't really recall, unfortunately. We might have touched on the issue of publishing rights to my books that had come out from the other publisher, but I don't think we talked business that much. Sonny struck me as a very calm, kind person. I was almost unknown in America, whereas he was already a major figure in the publishing world, but still he treated me so warmly, so graciously—the way he still does. He had a quiet way about him, a special style of his own, and I knew this was someone I could trust, and work with for a long time to come.
As I was leaving, he told me he would be very pleased if he could publish my books, and we shook hands. That handshake was, in essence, our contract. Sonny had just moved to New York from London, and I recall how his handshake was not that of your typical New Yorker.
And just as I'd hoped we would, he and I have worked together now for nearly thirty years.
Congratulations, Sonny, on receiving the Maxwell E. Perkins Award. I look forward to many more years of working together with you.
JO NESBØ
How can an author know if the person sitting across the table of a sidewalk café in New York is a good publisher? There's his reputation, obviously, his track record, and there are agents and other authors who talk about this particular publisher with hushed admiration and a respect that seemed almost tinged with fear. This latter point strikes me as strange—they can't possibly be talking about this soft-spoken, mild-mannered man who seems as uncomfortable with small-talk as me, and whose compliments about my books are so measured that you could almost suspect him of not really meaning them, even if you both know it's actually a way of keeping the embarrassment you both feel to a minimum. So he's clearly good. That's why he's the legend he is. But how can you know if he's the right publisher for the books you write? Well, obviously you can't know, sitting there in the restaurant while he tells you which dishes on the menu are good. And gives you a couple of books he thinks you'll like. And asks about your writing plans for the coming year. He nods in response to your plans, makes a note of them, but offers no comment. And when you ask him what he thinks he could do for you that your current publisher hasn't already done, he shrugs. And utters three sentences—low-key, unremarkable sentences—that express everything he thinks you need to hear. And it is. Then the food arrives, and the dish he recommended turns out to be good. And later the books, one of them anyway, turn out to be brilliant. And I don't know how he's done it, because when I walk away from there obviously I still can't know if he's the right publisher. All I know is that I really want him to publish my books.
GRAHAM SWIFT
Sonny has published me, on both sides of the Atlantic, for thirty-six years. That is, for more than half my life I and my work have had a friend. It's not enough to say he's published me, when he's made me welcome in more than one home and when some of the best times of my career have been in his company. I congratulate him on this award and would recognise him anyway as one of the book world's greats. For the long loyal personal association I can't ever be too thankful.
ANNE TYLER
I am surely not the only person who thinks first of the word "elegant" when Sonny Mehta comes to mind. He adds pizzazz to any occasion; I feel privileged to watch him in action. But what's even more elegant than his appearance is his style in working with a manuscript—his precision and his deft assurance. He's the Fred Astaire of editing.
Whenever I hear someone say that there really are no editors anymore (and I do hear that, fairly often), I like to imagine Sonny up there in New York, performing his light-footed dance at Alfred A. Knopf.
Posted: December 17, 2018