Sounds of Intern Summer 2023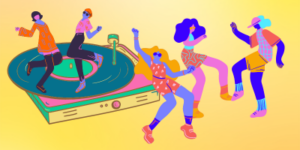 Looking for some new music this summer? Our interns have got you covered! The intern cohort shares the songs that have been playing on repeat. Whether you're going on a road trip or commuting to the office, these songs are sure to keep you company. From popular pop songs to rock, there's something for everyone.  
Turn up the volume and check out the Interns' Spotify playlist! 
Victoria Crow, Department: DEI 
A song that I've had on repeat this summer is "Sister Golden Hair" by America. It's a song that makes me feel like I'm laughing in the sun with my friends on a hot afternoon. It's the perfect song for summer that always brings a smile to my face. 
Jackie Garcia, Department: Children's Sales 
"Can't Take My Eyes Off Of You" by Frankie Valli – It gives me the same fuzzy and happy feelings that I get when I find a new book to read.  
Chelsea Kaneshiro, Department: Corporate Communications  
Two songs I've been listening to repeatedly are "Take My Hand" by 5 Seconds of Summer and "a thousand shores" by Citizens. I think the trademark of a good summer song is that it either makes you want to dance or sing at the top of your lungs, and these songs do just that! 
Hana Kim, Department: Crown BFYR/Labyrinth Road 
I've been listening to "Vampire" by Olivia Rodrigo a lot, especially when I commuted to the office for a little bit. I love the slow build and makes me feel like I'm racing to work. 
Katie McClymont, Department: Dutton 
I've had all of Taylor Swift's discography on repeat this summer (well, honestly, forever), but particularly "Long Live (Taylor's Version)" since the release of "Speak Now (Taylor's Version)". It's just pure magic. 
Ciara McKay, Department: Corporate Communications 
I've had "Thirteen" by Big Star on repeat this summer, especially while I work. It's calm enough that it doesn't distract me while I'm focused, and I love it enough to listen to it over and over again! 
Madison Manning, Department: Putnam 
"VIOLET SKIES" by Snoh Aalegra – In this song, Snoh tells her younger self to have hope for the future. It reminds me not to doubt myself!   
Vee Morales, Department: International Sales & Marketing 
I also have been listening to a lot of EDM and Childish Gambino. The EDM song I have been listening to the most is "On My Own" by Darci. I like it because it lets me zone out, and it also helps me focus with my ADHD. 
Shelbie Myers, Department: PRH Audio 
A song I've had on repeat this summer is "Ghost in the Machine" by SZA. I love her new album, but that song is my favorite. I love SZA's voice in it, and the lyricism of the piece as well. Its concept surrounds the vapid darkness of the celebrity life, particularly how music artists are treated.  
Ellen Ponder, Department: Special Markets Sales 
"Island in the Sun" by Weezer. This song stays on repeat in my summer playlist because it's one of those songs where you can almost smell the sunscreen and the ocean as you're listening to it. 
Jam Rorsoongnern, Department: Ballantine  
Miss Understood by Little Simz. The melody and poetics of this song feel like a soothing mantra, especially on slow summer nights. 
Tiana Williams, Department: Audio, Marketing & Publicity 
Fly Girl by FLO feat. Missy Elliot has been on repeat ALL SUMMER. The vocals are out of this world! 
Find the full Spotify playlist here.  
We hope you enjoy it! 
Posted: August 7, 2023