Space Cowboy Books Presents Christopher Ruocchio on His Sun Eater Series via Zoom (10/10)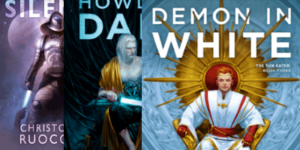 Space Cowboy Books presents Christopher Ruocchio, author of the Sun Eater series (including DEMON IN WHITE, published by DAW), in an online event (including a discussion, reading and Q&A) via Zoom on Saturday, October 10 at 9:00 pm (ET).
The most recent title in the Sun Eater series is DEMON IN WHITE. For almost a hundred years, Hadrian Marlowe has served the Empire in its war against the Cielcin, a vicious alien race bent on humanity's destruction. Rumors of a new king amongst the Cielcin have reached the Imperial throne. This one is not like the others. It does not raid borderworld territories, preferring precise, strategic attacks on the humans' Empire.
Ruocchio is the author of The Sun Eater, a space opera fantasy series from DAW Books, as well as the Assistant Editor at Baen Books, where he co-edited the military SF anthology Star Destroyers, as well as the upcoming Space Pioneers, a collection of Golden Age reprints showcasing tales of human exploration. He is a graduate of North Carolina State University, where a penchant for self-destructive decision-making caused him to pursue a bachelor's in English Rhetoric with a minor in Classics. An avid student of history, philosophy, and religion, Christopher has been writing since he was eight years old and sold his first book —Empire of Silence— at twenty-two.
!! As a reminder, if you are posting to a personal or other non-PRH account you must include the hashtag #TeamPRH !!
Posted: October 8, 2020