Spencer Johnson's WHO MOVED MY CHEESE? Turns 20, Long-Awaited Sequel to Pub in November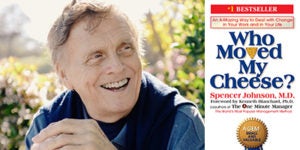 This year marks the 20th anniversary of Putnam's perennial bestseller WHO MOVED MY CHEESE? by Spencer Johnson.  The Friday edition of The Washington Post features an in-depth article by long-time book reporter Ron Charles, titled "'Who Moved My Cheese' Became a Monster Hit. Twenty Years Later, We're Still Wondering Why."
Here is an excerpt: 
"Sept. 8 marks the 20th anniversary of Spencer Johnson's WHO MOVED MY CHEESE?, one of the most unlikely bestsellers in American publishing.  Since 1998, when it first appeared in print, this brief self-help title has sold almost 30 million copies, and its sales are still gouda. Johnson, a physician who turned to writing early in his career, required his American publisher to keep his masterpiece always in hardback — never paperback — so that readers would take it seriously. And they do.
"In the world of business books, the 'Cheese' stands alone.
"Praised, imitated and satirized, WHO MOVED MY CHEESE? became a fixture on the bestseller list. Snobs claimed to be lactose intolerant to Johnson's wisdom, but millions of 
fans kept recommending the book to others.
"Why?"
To read the full article, click here.
The long-awaited sequel to WHO MOVED MY CHEESE? OUT OF THE MAZE, from Putnam and Portfolio, will be published later this year, on November 13.    Johnson died while editing this book, and Portfolio President & Publisher Adrian Zackheim says, "It puts you under a spell in the same way that 'Cheese' does, and then it reveals an idea set that's both simple and very challenging."
Posted: September 7, 2018