Spiegel & Grau's Annie Chagnot Wins 2017 Ashmead Award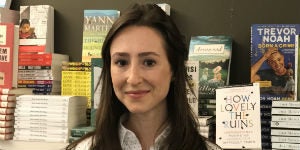 Spiegel & Grau Editor Annie Chagnot has been awarded the seventh annual Ashmead Award for exceptional editorial talent.  Named after book editor Lawrence Ashmead (1932-2010), the prize is designed to nurture the career of a promising young editor or assistant editor.  In addition to a term at the Yale Publishing Course, the Ashmead Award also provides the winner access to a distinguished group of book publishing editors, many of whom worked with Ashmead during his long career in book publishing.  
"Annie impressed us all with her dedication, the significant list she has begun to build, and the enthusiasm of her colleagues for the quality of her work," said Sharon Bowers, a partner at Miller Bowers Griffin Literary Management, who took part in the selection process.
Joining Spegel & Grau in 2013, Annie has edited such forthcoming books as YELLOW BIRD: Murder, Oil, and Justice on an American Reservation by Sierra Crane Murdoch; a memoir by essayist Mariya Karimjee; and BELOW THE EDGE OF DARKNESS, a memoir by marine biologist and MacArthur Fellow, Dr. Edie Widder.
For more information about the Ashmead Award and to view a list of past winners, click here.
Posted: August 16, 2017