Stand With Salman Rushdie This Friday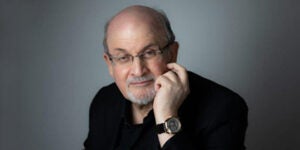 In the wake of the attack on Salman Rushdie, Penguin Random House, along with PEN America and The New York Public Library, will come together with friends, supporters, and members of the literary community to read selected texts from Rushdie's body of work.
This Friday, August 19,  join Penguin Random House and our long-standing partners as we stand in solidarity with our author and in ardent support of freedom of expression. To be held on the steps of the NYPL, the event will also be livestreamed so people around the world can show their support.
The readings will feature readers such as Paul Auster, Reginald Dwayne Betts, Tina Brown, Kiran Desai, Andrea Elliott, Amanda Foreman, Roya Hakakian, A.M. Homes, Siri Hustvedt, Hari Kunzru, Colum McCann, Andrew Solomon, and Gay Talese. Other partners include House of Speakeasy. The event is open to the public, but for those att00 comments awaiting moderationending virtually, in addition to the livestream you will also be able to follow live coverage on Twitter ( @PENamerica ).
"Salman Rushdie's voice and literary works are inextricably tied to the advancement of freedom of expression, and the attack on him is a horrifying and unconscionable act of violence," said Markus Dohle, CEO of Penguin Random House. "As publishers, we have a collective responsibility to support writers, whose books and ideas ensure an open and ever-evolving society. It is our honor to publish Salman's prolific works, and to stand with him and the entire literary community as we remind the world of the power—and necessity—of the written word."
When: Friday, August 19, 2022 | 11:00 am – 12:00 pm ET
Where: New York Public Library – Stephen A. Schwarzman Building | 476 5th Ave, New York, NY 10018 
Livestream: Watch here
For those who would further like to show support, PEN America is encouraging readers to post their own home video reading a favorite passage of Rushdie's work and being sure to use #StandWithSalman and @PENamerica.
Posted: August 17, 2022