Stay at Home Story Time with Oliver Jeffers on Instagram Live (4/10)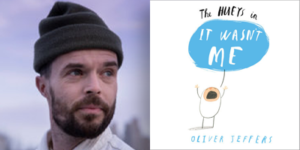 Oliver Jeffers,the #1 bestselling illustrator of The Day the Crayons Quit!, presents a special Stay at Home Story Times series in which he reads his picture books live on Instagram. Jeffers will read THE HUEYS IN IT WASN'T ME (Philomel Books) on Instagram Live (@oliverjeffers) on Friday, April 10, at 2:00pm (ET)
In THE HUEYS IN IT WASN'T ME, the Hueys are back! Jeffers' jelly bean-shaped creatures may look the same, think the same, and even do the same things, but that doesn't mean they always agree. The only problem is, they can't seem to agree on what they disagreed on in the first place! Which ultimately leads to an even bigger disagreement! Anyone who has ever had to referee an argument among siblings or friends will appreciate the absurdity Jeffers reveals in the every-day trials of getting along.
Oliver Jeffers makes art and tells stories. His bestselling picture books that have been translated into many languages all over the world, winning multiple awards including the Nestlé Children's Book Prize Gold Award, Blue Peter Book of the Year, and CBI Book of the Year. Originally from Belfast, Northern Ireland, Oliver now lives and works in Brooklyn, New York, with his wife and young children.
!!A reminder for PRH employees: If you are posting this article to a personal or other non-PRH account you must include the hashtag #TeamPRH.!!
Posted: April 9, 2020