Steinem, Brown, Wong to Lead "Then and Now: The Fight for Reproductive Freedom" Virtual Discussion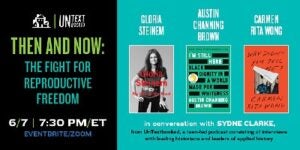 Join Random House, in partnership with UnTextbooked, a podcast for the future brought to you by teen changemakers, on Tuesday, June 7 at 7:30 p.m. (ET) via Zoom for Then and Now: The Fight for Reproductive Freedom, featuring Gloria Steinem , Austin Channing Brown, and Carmen Rita Wong, in a virtual, cross-generational conversation between activists and thought leaders in the women's rights space.
As reproductive rights return to the forefront of the national conversation, we're looking to those who came before us to share their wisdom and insights. A transfer of knowledge across generations can be our key right now to advancing understanding on differing views on the issue, helping today's students discern their stance, and collectively strengthening our civic participation.
Moderated by high school senior Sydne Clarke, this panel discussion joins together extraordinary writers and leaders of historic movements with an inquisitive, young journalist for an intergenerational discussion about reproductive rights, activism, and finding one's own voice in the court of public opinion. You'll hear from Steinem, Brown, and Wong, as a new generation wonders what histories do we recall together with these seasoned voices? What past lessons do we help invoke to make clear the serious long-term impact of Supreme Court rulings on their lives and the lives of their loved ones? And how can we make movements more inclusive?
To sign up, please click this link to register for your free ticket.
Or join directly on Zoom (Webinar ID: 942 9028 8662; Passcode: 685019)
Posted: June 6, 2022