Stephanie Dray's THE WOMEN OF CHATEAU LAFAYETTE: Three Wars, Three Women, One Historic Legacy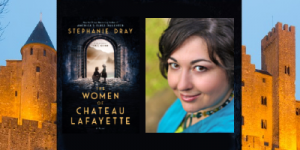 THE WOMEN OF CHATEAU LAFAYETTE is New York Times bestselling author Stephanie Dray's first hardcover to publish with Berkley, on sale today, March 30. To watch a book trailer, click here.
Stephanie Dray is best known for her takes on America's founding mothers, including Eliza Hamilton and Patsy Jefferson. And while THE WOMEN OF CHATEAU LAFAYETTE began as the story of Adrienne Lafayette, considered America's French Founding Mother, it turned into something more. Dray, in her research, discovered some long hidden secrets along the way.
Berkley Executive Editor Amanda Bergeron says, "I've long adored Stephanie Dray's vivid and powerful renderings of women in history, and THE WOMEN OF CHATEAU LAFAYETTE is—without hyperbole—her most impressive and ambitious book yet."
THE WOMEN OF CHATEAU LAFAYETTE is an epic generational saga, based on the true story of an extraordinary castle in the heart of France and the remarkable women bound by its legacy in some of humanity's darkest hours. At its core, it's a sweeping novel about duty and hope, love and courage, and the strength we find from standing together on the shoulders of those who came before us.
New York Times bestselling author Kate Quinn describes it as, "A masterpiece, braiding three stories into a single tale of courage, humanity, and women triumphing in the face of overwhelming odds. Three heroines with seemingly nothing in common—a French Revolution Founding Mother struggling to preserve her family, a World War I socialite turned passionate activist, and a World War II orphan pulled into the French Resistance—turn out to have everything in common as they struggle through the chaos of three separate wars to forge a united legacy."
Dray's novel has already been included in "most anticipated" roundups from Oprah Magazine, AARP, Parade, Popsugar, She Reads and more.
Please join Berkley in celebrating the book's launch tonight virtually at 7:00 pm (ET) on A Likely Story Bookstore's Facebook page, where Stephanie will be in conversation with New York Times bestselling author Karen White.
Posted: March 30, 2021