Steve Leder In Conversation with Claire Bidwell Smith via reimagine.org (12/17)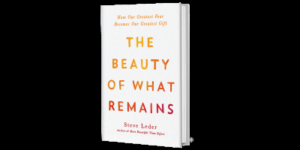 Rabbi Steve Leder, author of THE BEAUTY OF WHAT REMAINS: How Our Greatest Fear Becomes Our Greatest Gift (Avery), will discuss his upcoming book with Claire Bidwell Smith at a Holiday Space virtual event via reimagine.org on Thursday, December 17 at 2:00 pm (ET).
As the senior rabbi of one of the largest synagogues in the world, Steve Leder has learned over and over again the many ways death teaches us how to live and love more deeply by showing us not only what is gone but also the beauty of what remains.
This inspiring and comforting book takes us on a journey through the experience of loss that is fundamental to everyone. Yet even after having sat beside thousands of deathbeds, Steve Leder the rabbi was not fully prepared for the loss of his own father. It was only then that Steve Leder the son truly learned how loss makes life beautiful by giving it meaning and touching us with love that we had not felt before.
Enriched by Rabbi Leder's irreverence, vulnerability, and wicked sense of humor, this heartfelt narrative is filled with laughter and tears, the wisdom of millennia and modernity, and, most of all, an unfolding of the profound and simple truth that in loss we gain more than we ever imagined.
Steve Leder is the senior rabbi of Wilshire Boulevard Temple in Los Angeles. After receiving his degree in writing and graduating cum laude from Northwestern University, and spending time studying at Trinity College, Oxford University, Leder received a master's degree in Hebrew letters in 1986 and rabbinical ordination in 1987 from Hebrew Union College. He is the author of three other books: The Extraordinary Nature of Ordinary Things, More Money Than God: Living a Rich Life Without Losing Your Soul, and the bestseller More Beautiful Than Before: How Suffering Transforms Us.
!! As a reminder, if you are posting to a personal or other non-PRH account you must include the hashtag #TeamPRH !!
Posted: December 15, 2020