Steven Rowley to Talk about His Novel that Features Jacqueline Kennedy Onassis via Zoom (7/1)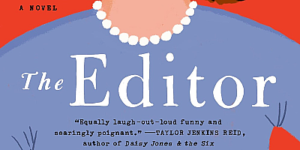 Steven Rowley, author of THE EDITOR (just out in paperback from Putnam), be featured at an East End Books Ptown virtual event via Zoom on Wednesday, July 1 at 5:00 pm (ET).
Rowley's THE EDITOR is about a struggling writer who gets his big break, with a little help from an editor named Jacqueline Kennedy Onassis.
After years of trying to make it as a writer in 1990s New York City, James Smale finally sells his novel to an editor at a major publishing house: none other than Jacqueline Kennedy Onassis. Jackie–or Mrs. Onassis, as she's known in the office–has fallen in love with James's candidly autobiographical novel, one that exposes his own dysfunctional family. But when the book's forthcoming publication threatens to unravel already fragile relationships, both within his family and with his partner, James finds that he can't bring himself to finish the manuscript.
Jackie and James develop an unexpected friendship, and she pushes him to write an authentic ending, encouraging him to head home to confront the truth about his relationship with his mother. Then a long-held family secret is revealed, and he realizes his editor may have had a larger plan that goes beyond the page.
Rowley is the author of The Editor and the national bestseller Lily and the Octopus, which has been translated into nineteen languages. He has worked as a freelance writer, newspaper columnist, and screenwriter. Originally from Portland, Maine, Rowley is a graduate of Emerson College. He lives in Palm Springs, CA.
!! As a reminder, if you are posting to a personal or other non-PRH account you must include the hashtag #TeamPRH !!
Posted: June 30, 2020