Stewart O'Nan, the "Bard of the Working Class," Tells a Story That Hasn't Been Told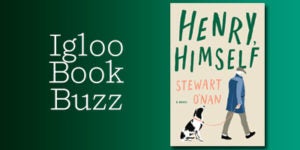 Our new Igloo Book Buzz selection, Stewart O'Nan's HENRY, HIMSELF, published by Viking on April 9, is a wry, warmhearted portrait of an American original — a man who believes he's reached a dead end only to discover life is full of surprises.
"Stewart O'Nan has penned many kinds of novels," says Paul Slovak, Vice President & Executive Editor, Viking, "but over the last ten years he has gained attention as the 'bard of the working class,' winning acclaim for writing about everyday life and ordinary people – the manager of a Red Lobster restaurant, a jobless man risking his last savings at the roulette wheel, a lonely widow whose grown children have long since moved away. He is a master at inhabiting these characters and capturing them with great authenticity and dignity, one of the things that makes him a joy to work with.
"O'Nan has also been in the midst of composing an ambitious fictional epic about the Maxwell family, with a trio of novels that began with Wish You Were Here in 2002, carried on with Emily, Alone in 2011, and now continues with HENRY, HIMSELF, a portrait of Emily's husband, a practical, soft-spoken engineer and twentieth-century everyman who discovers, at age seventy five, a continuity to life that is both mysterious and reassuring. There are beautiful moments of unexpected grace in this novel, as well as O'Nan's trademark universality – as he has said to me, there is an Emily and a Henry in every family."
Stewart O'Nan comments, "I have to be totally true to Henry and the way Henry sees the world. Henry has the same soft spots and the same resentments for someone who he's been with for 48 years. They've learned to abide with each other. Of course, they have their own problems too. It's the story of a marriage, and we learn the most important things: How they met and how they courted and how they came together and what they think of each other. And now they're with each other almost all the time."
"There's always a push to find that story that hasn't been told. At one point I wrote a piece for a newspaper about that idea of what [President Richard] Nixon and Nixon's handlers called the 'silent majority' in America. And Henry definitely fits that idea of a silent majority. He would never raise his voice, and certainly not about anything political. And yet, he represents a lot of what America is, and still is. I don't think it's changed that much in generations. Looking at myself and my father, if we are the templates for what Henry is throughout his life, I see the same things in myself, and the same things in my father, in Henry and his father. I see a lot of that same attitude towards life."
Posted: April 11, 2019