Stu-Fest: Stuart Applebaum's PRH 50th Anniversary Celebrated With Laughter, Emotion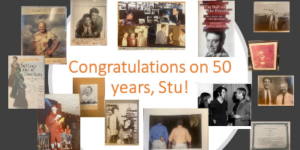 "He always has our backs."
Stuart Applebaum, book publicist, publicity director, and public relations head for Bantam Books, Bantam Doubleday Dell, Random House, Penguin Random House, and now, Emeritus Executive Vice President, Corporate Communications, Penguin Random House, was feted by more than 200 current and former colleagues and friends via Zoom  the afternoon of July 18 to commemorate his half-century working at the company.
Co-hosted by Madeline McIntosh, CEO of Penguin Random House U.S., and Claire von Schilling, EVP, Director, Corporate Communications & Social Responsibility, the tribute for Applebaum, recognized in this spring's PW milestone anniversary issue, as one of the book industry's 100 most influential contributors of the past fifty years, featured a conversation with him of career memories and "life lessons." It was accompanied by a non-stop flow of commentary and appreciation in the chat from the admiring audience.
Highlights:
Origin Story
Stuart grew up middle class in Flushing, Queens. A constant patron of the Pomonok branch of the Queens Public Library, where he began reading Publishers Weekly, and says since he was fifteen he hasn't missed many issues.
After graduating from Queens College, in a job interview with the head of Knopf, he asked about becoming an Editorial Assistant, and was told there were no openings. But they were seeking a Publicity Assistant. "I heard myself say, 'I would like to apply,' a decision he says, "that changed my life forever."
Once hired, he learned, "slowly and painfully," from Publicity Director Bill Loverd, how to write a press release and a corporate memo, teachings he still uses every day, fifty years later.
Coming to Bantam
He says he loved being a "Knopf guy," but his true publishing affinity was for mass market paperbacks. In January 1974, he was hired as a Publicist at Bantam Books by Esther Margolis. First publicity campaign: an unending author tour for John Wallace Spencer's LIMBO OF THE LOST, a paperback original which went on to sell 1.5 million copies. Life lesson: Sometimes it is best not to read the book you are promoting. Could be demotivating. Corollary: They don't pay us to be book critics.
Favorite Author
"That's easy," says Applebaum: Louis Dearborn L'Amour, Bantam's biggest-selling author, whose publicist he became in 1975, and continued posthumously, with Applebaum seeing to his passing being mentioned on the front pages of the New York Times and the Los Angeles Times. "One of my career thrills," he recalled, was supporting  Louis, a paperback writer, to become a #1 NY Times Hardcover Bestseller, and renowned  in the media and in the culture as one of America's most popular and beloved storytellers.
Other Memories
Helping transform Bantam, in the early eighties, from a paperback reprinter to the "House of Hits" (New York Magazine), one of the most successful hardcover publishers. Central to that achievement were his publicity efforts  for successive million-copy-plus number-one nonfiction hardcovers: Mark McCormack's WHAT THEY DON'T TEACH YOU AT HARVARD BUSINESS SCHOOL; IACOCCA: AN AUTOBIOGRAPHY; and YEAGER: AN AUTOBIOGRAPHY.
His time in Public Relations and Corporate Communications is as storied as his road warrior days.  Stepping away in the nineties as Bantam Publicity Director, Applebaum focused nearly undivided attention on his new duties as spokesman and head of public relations for Bantam Doubleday Dell, and thereafter, Random House, and the start years of Penguin Random House. It was in this capacity that he earned the respect and devotion across the divisions and imprints for his advice and tactical efforts, his strategic support and outreach with press relations, and his 24/7 belief in his colleagues' work.
Stuart S. Applebaum Giving Foundation
Administered "single-handedly and single-mindedly" by the guest of honor, who forsakes making funding and underwriting solicitations, organizing annual disbursements for the arts, reading, literacy, public libraries, free expression, reproductive rights, health, Jewish causes and institutions, and anti-anti-Semitism. Many contributions honor his colleagues.
Testimonials
Eloquent, emotional toasts at the event from Gina Centrello, President and Publisher, Random House, David Drake, President, Crown, and Jaci Updike, President of Sales, PRH U.S. In turn, each spoke of how unwaveringly meaningful and mentoring Applebaum's support and guidance has been for them on many levels. He said afterward, "the unexpected intensity and sincerity of their compliments left me overwhelmed and deeply humbled."  His brother Irwyn, known as Applebaum The Younger, also weighed in with a zinging, loving perspective.
The Future 
His physical and mental health permitting, Applebaum told the audience he will continue to work "full tilt, full time, as long as my colleagues will have me."
He wished everyone a good future with attaining their own career milestones, adding, "May the last memo you read be one of mine."
For those who want to contribute comments on the Kudo Board for Stu, please click here. 
To view the 65-minute Zoom celebration in its entirety, click below.
(Full-screen image enlargement comes after a few minutes.)
Posted: July 20, 2022