Sue Monk Kidd Discusses Her New Novel via Zoom Live (4/21)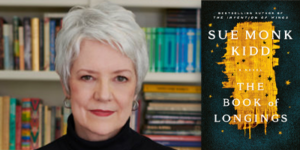 Sue Monk Kidd will discuss her now novel, THE BOOK OF LONGINGS (Viking), with Robin Homonoff and participate in an audience Q&A through A Mighty Blaze via Live Zoom (meeting ID: 339 452 386) on Tuesday, April 21, at 2:00pm (ET).
In her mesmerizing fourth work of fiction, Sue Monk Kidd takes an audacious approach to history and brings her acclaimed narrative gifts to imagine the story of a young woman named Ana. Raised in a wealthy family with ties to the ruler of Galilee, she is rebellious and ambitious, with a brilliant mind and a daring spirit. She engages in furtive scholarly pursuits and writes narratives about neglected and silenced women. Ana is expected to marry an older widower, a prospect that horrifies her. An encounter with eighteen-year-old Jesus changes everything.
Grounded in meticulous research and written with a reverential approach to Jesus's life that focuses on his humanity, THE BOOK OF LONGINGS is an inspiring, unforgettable account of one woman's bold struggle to realize the passion and potential inside her, while living in a time, place and culture devised to silence her. It is a triumph of storytelling both timely and timeless, from a masterful writer at the height of her powers.
Sue Monk Kidd's debut novel, The Secret Life of Bees, spent more than one hundred weeks on the New York Times bestseller list, has sold more than six million copies in the United States, was turned into both an award-winning major motion picture and a musical, and has been translated into thirty-six languages. Her second novel, The Mermaid Chair, was a #1 New York Times bestseller and was adapted into a television movie. Her third novel, The Invention of Wings, an Oprah's Book Club 2.0 pick, was also a #1 New York Times bestseller.
!!A reminder for PRH employees: If you are posting this article to a personal or other non-PRH account you must include the hashtag #TeamPRH.!!
Posted: April 20, 2020