Sunjeev Sahota to Discuss His New Novel Virtually With Kamila Shamsie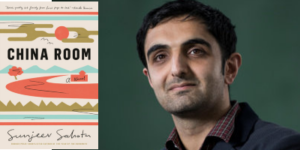 Sunjeev Sahota, author of CHINA ROOM (Viking), longlisted for the 2021 Booker Prize, will be in conversation about his new novel with Riverhead author Kamila Shamsie during a virtual discussion via the Elliott Bay Book Company YouTube channel on Tuesday, August 3 at 10:00 pm (ET). To register for this event, click here.
In CHINA ROOM, Mehar, a young bride in rural 1929 Punjab, is trying to discover the identity of her new husband. Married to three brothers in a single ceremony, she and her now-sisters spend their days hard at work in the family's "china room," sequestered from contact with the men—except when their domineering mother-in-law, Mai, summons them to a darkened chamber at night. Curious and strong-willed, Mehar tries to piece together what Mai doesn't want her to know. From beneath her veil, she studies the sounds of the men's voices, the calluses on their fingers as she serves them tea. Soon she glimpses something that seems to confirm which of the brothers is her husband, and a series of events is set in motion that will put more than one life at risk. As the early stirrings of the Indian independence movement rise around her, Mehar must weigh her own desires against the reality—and danger—of her situation.
Riverhead author Bryan Washington offers praise for CHINA ROOM and Sahota: "Boisterous, emotional, and heartrending, CHINA ROOM juggles questions of love, debt, and what it means to build a home alongside the history that carries us. Sahota navigates the worlds between where we believe we belong, where we end up, and the choices we make to close the distance along the way, with humanity, precision, and grace—CHINA ROOM is a propulsive dream, intricately wrought, and Sahota is a maestro."
Sahota is also the author of Ours Are the Streets and The Year of the Runaways, which was shortlisted for the Man Booker Prize and the Dylan Thomas Prize and was awarded a European Union Prize for Literature. In 2013, he was named one of Granta's Twenty Best of Young British Novelists of the decade. He lives in Sheffield, England, with his family.
!! As a reminder, if you are posting to a personal or other non-PRH account you must include the hashtag #TeamPRH. !!
Posted: August 2, 2021