Support #GivingTuesdayNow with FAMILY MEAL, PRH's Charity Cookbook, on Sale Today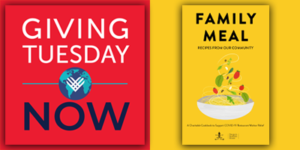 At Penguin Random House, community involvement is not a side story. We are committed to serving our communities beyond the books we publish. In honor of #GivingTuesdayNow Penguin Random House is highlighting today's release of FAMILY MEAL: Recipes from Our Community, a digital-only cookbook benefiting America's restaurant workers.
#GivingTuesdayNow is taking place for the first time on May 5th as an emergency response to the unprecedented need caused by COVID-19. This global day of unity encourages us to join forces to support those in need during this global crisis. So we've united the best way we know how – by bringing together authors from across Penguin Random House to serve up something truly special.
Our family of more than 50 chefs and home cooks, including Ina Garten, Samin Nosrat, Bryant Terry, Alison Roman, Bobby Flay, Dan Barber, Michael Symon, Claire Saffitz, Christina Tosi, Danny Trejo, and many more, have opened their kitchens to share a look at the food they're cooking at home right now – food that comforts, sustains, and helps them feel connected to the world outside.
All proceeds from FAMILY MEAL support the Restaurant Workers' Community Foundation COVID-19 Relief Fund. It is one humble attempt to do our part to support the places and people that make our cities special.
Before its publication, FAMILY MEAL had already received tremendous media coverage, including articles in Food & Wine, The Daily Beast, and Bloomberg.
We are honored to have this opportunity to work hand in hand with our readers to strengthen the social and cultural fabric of our communities.
We hope you'll join us and support America's restaurants. To order a copy of FAMILY MEAL, please click here.
Posted: May 5, 2020