---
Susan Kamil on the Enduring Resonance of GUERNSEY and the Novel's Netflix Film Adaptation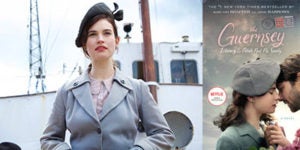 THE GUERNSEY LITERARY AND POTATO PEEL PIE SOCIETY by Mary Ann Shaffer and Annie Barrows, a celebration of the written word in all its guises and of finding connection in the most surprising ways, was originally published by The Dial Press in 2008. Structured as a series of letters, this beloved novel quickly became a #1 New York Times bestseller and a book club favorite. Fast forward to this summer, when Netflix released a film adaptation of GUERNSEY. Rave reviews have been rolling in, sparking renewed interest in the book, with Dial publishing a movie tie-in edition that has returned the title to the New York Times bestseller list.
In this "From Page to Screen" Igloo interview, Susan Kamil, Executive Vice President, Publisher, Random House and The Dial Press, shares insights into the process of how GUERNSEY became a book, her impressions of the film adaptation, and why both the novel and film resonate so strongly with readers and viewers.
When and how did you initially discover THE GUERNSEY LITERARY AND POTATO PEEL PIE SOCIETY and work with the authors to develop it into a novel?
GUERNSEY was submitted to me by a literary agent—Liza Dawson—who had told me about it at a lunch. The story was so compelling that when the manuscript arrived I read it immediately and of course was immediately transported. I was fortunate enough to then have a conversation with Mary Ann Shaffer, the author—who was charming and funny and so thrilled to be talking about the book which she had worked on for so many years—and came away understanding her storytelling priorities so could write an editorial letter with those in mind. Unfortunately, she became too ill to do the work, and so her extremely gifted niece, Annie Barrows, a bestselling author of children's books (the Ivy and Bean series), stepped in to complete it. With respect and tenderness, Annie was brilliantly able to channel her aunt's literary sensibility and mimic her voice on the page. Annie's contribution to the success of the novel, because of her own talent, and by becoming the face of the book during publication, cannot be overstated.
Mary Ann passed away before GUERNSEY was published. This seemed like such a cruel trick of fate and saddens me to this day. Yet, what a legacy she leaves in one of the most beloved books of the past 10 years.
What are your impressions of the movie adaptation of the book recently released on Netflix?
I love the movie. It captures the spirit of the novel exactly! Lily James is such a perfect Juliet, and Michiel Huisman is such a perfect Dawsey. Their on screen chemistry is palpable. Mike Newell, the director, has captured the intimacy of the love story, and the friendship among the book club members with such affection and humor even as he is true to their losses during the Nazi occupation. The movie backstory is part of the Guernsey lore: the producer is Mitch Kaplan, one of the most respected booksellers in America. He read the book very early on and was determined to make it a film. He joined with the wonderful producer Paula Mazur and their commitment to the project was unwavering.
Why do you think this book resonates so strongly with readers and now with film viewers as well?
GUERNSEY is ultimately a story of love, heroism and resilience—big universal themes that resonate no matter in what historical moment they are set. But the Nazi occupation of the island was not really well known, and so many readers really responded to that. At the same time each of the characters are wonderfully drawn, so plucky and enchanting that in spite of what they each lived through we all want to join their book club and become their friends. And finally, GUERNSEY the novel and the film are about how books connect us, and how through books our lives are made better, and can even be changed forever.
Posted: August 27, 2018