Talking About THE GRACE OF DOGS, Pt. 1: Author Andrew Root on Our Deep Canine Connections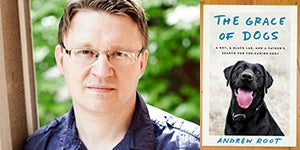 The joy of having a dog family member cannot be easily measured, nor can the pain felt when the time comes to say goodbye to a furry loved one.  Andrew Root offers illuminating, personal insights into this human-dog dynamic in his book, THE GRACE OF DOGS: A Boy, A Black Lab, and A Father's Search for the Canine Soul, published by Convergent, a Crown Publishing Group imprint, on Tuesday, June 20.   
Dr. Root was moved to begin writing down his thoughts after his family gathered in the vet's office to grieve losing their beloved Labrador, Kirby. Dr. Root's eight-year-old son, Owen, led the family in a Christian ritual at their dog's burial service, inspiring the author to draw on biology, history, theology, cognitive ethology (the study of animal minds), and paleontology to trace how in our mutual evolution, humans and dogs have so often helped each other to become more fully ourselves.
In the first of a two-part article about this special book, Dr. Root gives thoughtful responses to the following questions:
How would you describe the creation of THE GRACE OF DOGS and how the book evolved while you were writing it?
I always had a sense that people have deep connections to their dogs, but Kirby was the first dog that I owned that I watched my kids really fall in love with. Watching him get put down, I was really shocked with the grief of the experience. How, in the midst of that grief, there were these overtones of the spiritual. So the book was really born from that – that dark experience of losing, not something, not some kind of object that you cared about or you liked, but something that you actually loved. And that experience led to the book's driving question: How deep is this connection, how significant is it?
This is the hardest I've ever worked on a book. My first draft was sort of a very academic book using lofty diction. I think as an academic you in some ways write past the reader to this silent community of other people that somehow will validate your work, and it was a real kind of exorcism for me to just write for an everyday reader. Dave (Kopp) and Derek (Reed) at Convergent worked really hard to make it a good read. Every time I got an e-mail from them I swore under my breath knowing there would be more work to do, but I'm incredibly thankful for all their feedback.
What are the key revelations about the dogs we love do you hope readers take to heart while reading your book?
I hope readers see—even more than they do now—how unique dogs actually are. Dogs have had incredible relationships with human beings for tens of thousands of years, maybe even as far back as our own evolutionary origins, in which dogs played a part in helping us be human. I think they still play that part today.
Maybe my greatest hope would be that, as people read, they keep looking at the dog curled up at their feet and are struck by the sense that there's something mystical about these ordinary beasts—these creatures that can tell when we're mad, can tell when we're sad, and want to be with us. The relationships we have with our dogs is a gift—maybe even a gift from God—because it's filled with grace, it's freely given. A dog doesn't look at your bank account or the number on a scale or how many degrees you have. It doesn't even really care what other people think about you. Your dog simply desires to give you love and companionship, and that's something we profoundly need.
Posted: June 19, 2017