Tamora Pierce and Brandon Sanderson In Conversation about Writing and World Building via YouTube (7/9)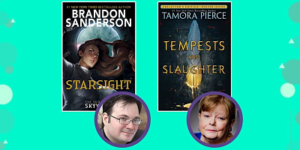 Tamora Pierce, author of TEMPESTS AND SLAUGHTER (Ember) and Brandon Sanderson, author of STARSIGHT (Delacorte Press) will discuss writing, world building, and more at this Politics & Prose Live virtual event via YouTube on Thursday, July 9 at 8:00 pm (ET).
Join us for a fascinating discussion between two legendary science fiction and fantasy authors! Tamora Pierce, whose latest novel follows the adventures of three student mages, has written over 18 novels set in the bewitching realm of Tortall. Brandon Sanderson, whose most recent book is the second in an action-packed space epic, is the author of several bestselling series including the Mistborn trilogy. Watch these celebrated writers talk about their craft and the incredible worlds they have built. Ages 12 and up.
Ms. Pierce is the #1 New York Times bestselling author of over eighteen novels set in the fantasy realm of Tortall. She first captured the imagination of readers with her debut novel, Alanna: The First Adventure. Since then, her bestselling and award-winning titles have pushed the boundaries of fantasy and young adult novels to introduce readers to a rich world populated by strong, believable heroines.
Mr. Sanderson is the author of the #1 New York Times bestselling Reckoners series: Steelheart, Firefight, and Calamity and the e-original Mitosis; the New York Times bestsellers Skyward and its sequel Starsight; the internationally bestselling Mistborn trilogy; and the Stormlight Archive. He was chosen to complete Robert Jordan's The Wheel of Time series. His books have been published in more than twenty-five languages and have sold millions of copies worldwide. Brandon lives and writes in Utah. To learn more about him and his books, visit him at brandonsanderson.com or follow @BrandSanderson on Twitter and Instagram.
!! As a reminder, if you are posting to a personal or other non-PRH account you must include the hashtag #TeamPRH !!
Posted: July 8, 2020