TASTE Editors Talk LASAGNA, Share Favorite Recipes
LASAGNA: A Baked Pasta Cookbook was named Bon Appetit's "Cookbook of the Month" for October 2019. By Anna Hezel and the editors of TASTE, "the online magazine for people who love to cook," this Clarkson Potter title has something for everyone: whether you're craving a meatball lasagna, keeping it simple with a slow cooker spinach lasagna, or hosting brunch with an eggy carbonara lasagna that shouts "Hello!" from the center of the table.
In this "Behind the Pages" interv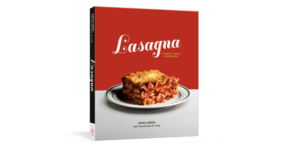 iew, TASTE editors share why this title is their first book, what was involved in the editorial process, a preview of what's ahead for the online magazine, and possible future book projects.
Why is LASAGNA the first book the TASTE team chose to write?
In addition to being a really fun, delicious thing to make, lasagna is a dish that tells a lot of stories—about regional Italian cooking, America's love of casseroles, and even Italy's history of colonialism in Ethiopia and Eritrea. It connects so many people and so many places.
What was involved in the editorial process?
We really wanted the book to feel like a TASTE book—smart and passionate, but still really fun and practical to use. It was really a team effort among the whole TASTE team, our recipe developer Grace Parisi, and our editor at Clarkson Potter, Raquel Pelzel, to conceptualize recipes and shape the book. It started with a gigantic dream list of recipes, and it started to take shape as we tried things out and reached out to chefs and writers we admire for contributions.
How would you describe your vision for TASTE and future book projects?
TASTE is an online magazine for today's home cook. Our future books program will closely reflect the diverse slate of stories we publish each week. The culture of food and home cooking, told with style and a strong point of view. This could be the square pizza boom, adventures in the land of soba, or hasselbacking everything.
Check out three of the TASTE editors' personal favorite Lasagna recipes below:
Porchetta-Spiced Pork Shoulder Lasagna
To sign up for TASTE's weekly newsletter to keep up with their most exciting, recently published articles and recipes, click here.
Posted: October 9, 2019