Taste What You Read: Penguin Random House India Pairs Books with Chocolate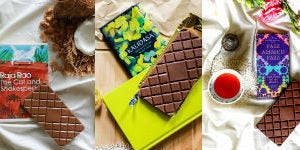 Penguin Random House India has collaborated with the chocolate brand "All Things" to formulate and pair taste buds with words. Inspired by classics from Indian literature, it is now possible to appease multiple sensory palettes.  You can feel the flow of the narrative and truly taste what you read.  From the initial sight of the packaging that resembles a book to chocolate melting in your mouth,  this collaboration promises a unique experience.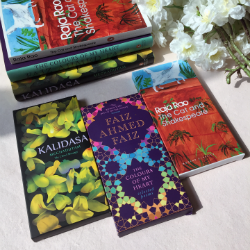 Several Penguin Random House India colleagues served as "taste-testers" looking for perfect book & chocolate combinations. A caramel-toned Belgian milk chocolate with a lemon zest and cream cheese-flavored white chocolate ganache echoes the richness and longing of love found in Kalidasa's luminous poetry. A bittersweet dark chocolate with botanical undertones paired with an aromatic Earl Grey-infused vodka ganache whets the appetite for the lyrical works of the poet Faiz Ahmed Faiz.  A milky Belgian chocolate with baked coconut crumble evokes Raja Rao's The Cat and Shakespeare, which connects readers with the everyday struggles and ordinary pleasures of living in Trivandrum during the early 1940's.
Posted: August 8, 2017