Téa Obreht's INLAND is August 2019 Barnes & Noble National Book Club Selection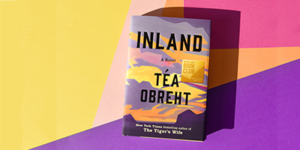 Barnes & Noble, Inc. today announced that INLAND by Téa Obreht is the August 2019 selection for the Barnes & Noble Book Club, a monthly book club designed to bring readers in communities across the country together to discuss the most compelling books. Barnes & Noble is selling a special, exclusive Book Club edition of INLAND as well as hosting a free Book Club night for customers to discuss the novel in stores across the country on Tuesday, September 10, beginning at 7:00 pm (local time), about one month after the book goes on sale today Random House. Customers can buy the book now and sign up for the Book Club in their local store or online at BN.com/bnbookclub.
"We're really looking forward to readers joining us for our monthly Book Club as we discuss an unforgettable, epic story set in the American West," said Liz Harwell, Senior Director of Merchandising, Trade Books at Barnes & Noble. "Téa Obreht won the 2011 Orange Prize for Fiction and was a 2011 National Book Award finalist for her debut novel, The Tiger's Wife, and INLAND is her much-anticipated follow-up that readers and critics around the country will love."
Previous Barnes & Noble Book Club selections include: The Female Persuasion by Meg Wolitzer, Clock Dance by Anne Tyler, An Absolutely Remarkable Thing by Hank Green, The Only Woman in the Room by Marie Benedict, The Last Romantics by Tara Conklin, The Island of Sea Women by Lisa See, Lost Roses by Martha Hall Kelly, The Guest Book by Sarah Blake, Mrs. Everything by Jennifer Weiner, and The Nickel Boys by Colson Whitehead.
For more details, customers can ask one of their local B & N booksellers, or check the Barnes & Noble Store Locator for event information. They can also join the conversation on Twitter, Instagram, Pinterest, Snapchat (bnsnaps) and Facebook, using hashtag #BNBookClub.
Posted: August 13, 2019