Ten Speed Press Authors Take Home Tales of the Cocktail Spirited Awards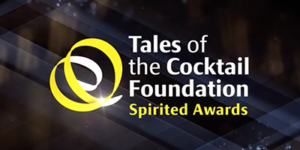 Ten Speed Press authors Robert Simonson, Alex Day, David Kaplan, Nick Fauchald and Ivy Mix are winners of 2019 Tales of the Cocktail Foundation Spirited Awards. Considered to be "the Oscars of the spirits/beverage industry," the 13th Annual Spirited Awards were presented on July 20 at the Tales of the Cocktail Festival in New Orleans.
Robert Simonson won the award for Best Cocktail & Spirits Writer. Simonson is the author of several Ten Speed Press titles, including the forthcoming THE MARTINI COCKTAIL. He also writes for PUNCH, a James Beard Award-winning online magazine, and a part of RHPG, focused on narrative journalism—both written and visual—about wine, spirits, beer and cocktails.
The Best New Cocktail or Bartending Book award went to COCKTAIL CODEX: Fundamentals, Formulas, Evolutions by Alex Day, David Kaplan, and Nick Fauchald. COCKTAIL CODEX won Book of the Year honors at the James Beard Awards earlier this year.
The Best Bar Mentor award was shared by Ivy Mix and Lynnette Marrero. Mix is the author of a forthcoming TSP book, LEGENDARY SPIRITS OF LATIN AMERICA: A Tribute to Drinking Culture with 70 Cocktails (April, 2020). Speed Rack, which Mix co-founded, also won a philanthropy award.
Congratulations to our award-winning Ten Speed Press authors, their editors and publishers.
For a complete list of Tales of the Cocktail Spirited Awards, click here.
The Tales of the Cocktail is a non-profit organization that educates, advances, and supports the global hospitality industry, and hosts the world's premier cocktail festival annually in New Orleans. The Spirited Awards honor the world's top bars, bartenders, writers, and cocktail experts.
Posted: July 29, 2019