Thank you, Claudio, and farewell!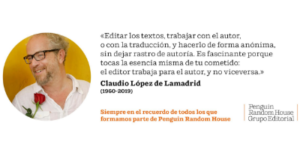 Dear all,
All of us are deeply shocked and greatly saddened over the events of the last 24 hours. I am still struggling to come to grips with the idea that Claudio has left us and will not be coming back. Claudio was, is and will be a great editor, a truly outstanding one, who devoted his whole life to his passion, which was no other than texts, books and authors. He felt that passion so keenly that he turned it into a craft, to which he dedicated all his energy and his wisdom. With his passing, we have lost an icon and one of the most influential figures of Spanish language publishing. We have also lost a great friend and colleague.
Claudio's death leaves a huge void in our lives.  I was fortunate enough to work side by side with him in the last few years. Claudio has been a great mentor to me as to so many others. I am deeply grateful for his advice and his generosity in guiding me through the intricacies of the publishing industry. Claudio trained and acted as a mentor to many of our young and not-so-young editors, both in Spain and Latin America. He invariably had a kind word to say and a friendly smile to share, and he always displayed remarkable levels of complicity, sagacity and empathy. I know that those of you who had the chance to work with him came to revere him, not least for his knack for creating inspiring working environments.
Claudio was a key component of PRHGE's Management Committee who was always ready to raise people's spirits with his gentleness and his good humor. He also contributed to building our company on both sides of the Atlantic with his numerous travels and his firm commitment with all our teams in Latin America, seeking to establish steadfast links between them. As a matter of fact, these days he was eagerly preparing a meeting with the publishing managers of the different countries.
Claudio passed away on the company's premises, in his office, surrounded by his books and projects, just doing the job that he loved so much. Among many other things, he has left us his catalog, one which he meticulously put together throughout many decades and which today constitutes a testament to his enthusiasm. I have received numerous messages of condolence in the last few hours, which are of course addressed to all of you too. The people who sent them are mourning his loss, as is the whole of the publishing community. Our grief is unspeakable, but we shall honor him with our work.
I would like to express my heartfelt gratitude to those of you who personally saw to Claudio when he lost his consciousness, until the ambulance arrived. I know it is little comfort right now, but the doctors in the ambulance and those in the emergency department praised those who attended to him for the impeccable job you did. I know you are all extremely saddened.
I would finally like to extend my most sincere condolences to his children, Jacobo y Jimena, his life partner Angeles and all his family members at this difficult time. We will all sorely miss him. 
With great affection,
Núria
Posted: January 14, 2019