THE CHANGELING TV Adaptation is Coming Soon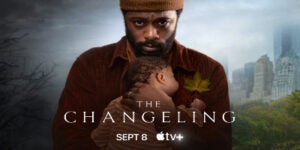 On August 8th, Apple released the trailer for the TV adaptation for THE CHANGELING by Victor LaValle (One World).  The show stars Academy Award-nominee LaKeith Stanfield as Apollo Kagwa, the unlikely hero who finds himself in an enchanted world while following the trail of his missing wife. In addition to Stanfield, the series stars Clark Backo, Adina Porter, Samuel T. Herring, Alexis Louder, Jared Abrahamson, and special guest star Malcolm Barrett. The 8-part series will debut with the first three episodes on Friday, September 8, 2023 on Apple TV+, followed by one new episode every Friday through October 13.
You can watch the full trailer here:
Apple TV+ describes THE CHANGELING as "a fairytale for grown-ups. A horror story, a parenthood fable and a perilous odyssey through a New York City you didn't know existed."
THE CHANGELING was published in 2017. USA Today declared it a "bewitching masterpiece." It was the winner of an American Book Award, a Locus Award for Best Horror Novel, a British Fantasy Award for Best Horror Novel, and a World Fantasy Award for Best Novel, and TIME named it one of the 100 best fantasy books of all time.
In March, One World published LaValle's latest novel, LONE WOMEN, to rousing critical acclaim. Calling him "an expert at suspense," People Magazine raved, "LaValle is at his best in the American West's untamed wilds." And the New York Times hailed it as "enthralling," asserting that "the combination of LaValle's agile prose, the velocity of the narrative and the pleasure of upended expectations makes [LONE WOMEN] almost impossible to put down." NPR noted in their review, "We didn't need any more proof that LaValle is one of the country's most exciting and imaginative writers of fiction, but it sure is nice to have anyway."
Victor LaValle is the author of eight works of fiction: five novels, two novellas, and a collection of short stories. His novels have been included in best-of-the-year lists by The New York Times Book Review, Los Angeles Times, The Washington Post, Chicago Tribune, The Nation, and Publishers Weekly, among others. He has been the recipient of a Guggenheim Fellowship, an American Book Award, the Shirley Jackson Award, and the Key to Southeast Queens. He lives in the Bronx with his wife and kids and teaches at Columbia University.
Posted: August 21, 2023