THE CUT OUT GIRL Wins Costa Book of the Year Award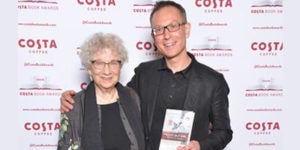 Bart van Es' THE CUT OUT GIRL: A Story of War and Family, Lost and Found, published by Penguin Press in the U.S. and Canada, has won the £30,000 Costa Book of the Year Award, after winning a Costa Book Award in the Biography category earlier this year. Telling the extraordinary true story of Lien de Jong, the narrative chronicles how a young Jewish girl survived in Holland during World War II, hiding from the Nazis in the homes of an underground network of foster families, one of them the author's grandparents. Mr. van Es accepted the prize at the Costa Awards ceremony in London on Tuesday, January 28, with Ms. de Jong at his side.
In accepting his award, Mr. van Es thanked the judges, his publisher, "and my amazing grandparents who showed such bravery when others did not." Ms. de Jong said, "Without family you don't have a story. Now I have a story … Bart has reopened the channels of family."
In 2014, Mr. van Es first met Ms. de Jong, then 80 and living in Amsterdam. He went on to investigate the story of her separation from her birth family, uncovering a tale both of Holocaust survival and of Dutch wartime collaboration.
Sophie Raworth, chair of the Costa judges, said the book "really surprised us all – incredibly important, very moving. It's a story that would never had been told if he hadn't searched for it … It has resonance, both for the displaced people of today, and for those stories that could go untold. It's beautifully written, understated… We felt like it was a hidden gem we wanted to put a spotlight on."
Posted: January 31, 2019