THE FIRST LOVE STORY Inspires New Ice Cream Flavor: Original Cin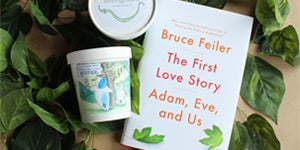 Penguin Press has partnered with Ample Hills Creamery to make a new flavor of ice cream – Original Cin – inspired by Bruce Feiler's new book, THE FIRST LOVE STORY: Adam, Eve, and Us, on sale today, Tuesday, March 21.  Ample Hills is inviting customers to choose their own story, with a custom five-pack of ice cream pints. Original Cin –  cinnamon ice cream with housemade fig newtons – is one of the new flavors.  
From New York Times columnist, PBS host and bestselling author of Walking the Bible and Abraham, THE FIRST LOVE STORY is a revelatory journey across four continents and 4,000 years exploring how Adam and Eve introduced the idea of love into the world, and how they continue to shape our deepest feelings about relationships, family, and togetherness.  In this fresh retelling of their story, Feiler travels from the Garden of Eden in Iraq to the Sistine Chapel in Rome, from John Milton's London to Mae West's Hollywood, discovering how Adam and Eve should be hailed as exemplars of a long-term, healthy, resilient relationship. At a time of discord and fear over the strength of our social fabric, Feiler shows how history's first couple can again be role models for unity, forgiveness, and love.
Posted: March 21, 2017