The Great American Read Update: Text Voting Now Available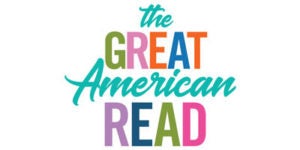 PBS' The Great American Read series premiered last month, kicking off a celebration of America's 100 best-loved novels (as chosen in a nationally-representative survey). You can vote online at http://www.pbs.org/the-great-american-read/vote/, via Facebook and Twitter, and now you can also cast your votes by sending a Text Message to 97979, using a specific hashtag for each title. The hashtags for the books published by Penguin Random House can be found here. More details about your voting options, plus a complete directory of title hashtags, are viewable here. All Penguin Random House colleagues are encouraged to participate. Public voting will continue throughout the summer, leading up to the Grand Finale in October, when America's Best-Loved Book will be announced.
Penguin Random House imprints publish 59 of the 100 titles on the Great American Reads list, including AMERICANAH by Chimamanda Ngozi Adichie, THE JOY LUCK CLUB by Amy Tan, OUTLANDER by Diana Gabaldon, THE BOOK THIEF by Markus Zusak, THE HUNT FOR RED OCTOBER by Tom Clancy, THE DA VINCI CODE by Dan Brown, A GAME OF THRONES by George R.R. Martin, THE HANDMAID'S TALE by Margaret Atwood, THE GRAPES OF WRATH by John Steinbeck, GONE GIRL by Gillian Flynn, LOOKING FOR ALASKA by John Green, THE OUTSIDERS by S.E. Hinton, and READY PLAYER ONE by Ernest Cline. View the complete list here
The Great American Read is a 9-hour, 8-episode PBS documentary series and public service campaign that explores and celebrates the power of reading, told through the prism of 100 best-loved. It investigates how and why writers create their imaginary worlds, how we as readers are personally affected by these stories, and what these 100 different books have to say about our diverse nation and our shared human experience.
The series features entertaining, inventive and informative documentary segments, plus compelling testimonials from celebrities, authors, notable Americans and everyday book lovers. It is paired with a multi-platform digital, educational and community outreach campaign, designed to get the country reading and passionately talking about their favorite works of fiction. And it all culminates in a nationwide vote to choose America's Best-Loved Book.
Through Penguin Random House's partnerships with the Library of Congress, American Library Association and other literary organizations, this PBS initiative will include the distribution of over 100,000 new books to underserved schools around the country as well as grassroots community events organized by the more than 350+ PBS member stations nationwide.
Posted: July 19, 2018