The Great Fantasy Debate Debuts on Facebook. Watch the First Episode!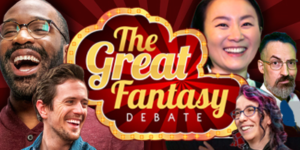 Should people be allowed to own dragons? What's the best Game of Thrones house to marry into? These questions and more will be answered on The Great Fantasy Debate, an 8-episode video series featuring SFF authors Pierce Brown, Naomi Novik, Marie Lu, Tochi Onyebuchi, and Jim Butcher, which airs Tuesday nights on Facebook Watch, via the Penguin Random House Facebook page and the Unbound Worlds Facebook Group. All episodes are 10 minutes or less. Each week, authors and comedians team up to present arguments and counter-arguments to support their side of a fantasy topic, drawn from fantasy literature and film. At the end of each episode, the host declares a winner, then asks the audience to weigh in.
"This is our team's most ambitious project yet, and we're super excited to share it with everyone," said Pat Stango, the Director of Consumer Marketing's Video Team, who served as an Executive Producer on the series.
The Great Fantasy Debate has been in the works since October 2019, when Facebook reached out to various media partners about the possibility of creating video series that would appeal to niche but engaged Facebook Groups. There were several categories Facebook was considering funding, including fantasy.
"We have a deep roster of SFF authors, and many fantasy experts in the building, which was all key to our pitch " Stango said. "As soon as we got the greenlight from Facebook to create this series, which they're helping to market and support, I reached out to colleagues in our various divisions with a wishlist of authors. Thanks to these divisional marketing & publicity teams we were able to put together our dream author cast. Another thanks to the Del Rey team who helped us brainstorm topic ideas. The whole process was a team effort across divisions."
It was a short timeline for creating a series from scratch, and the Consumer Marketing Video Team partnered with a local production company, Supreme Robot Pictures, to gather a larger crew, recruit comedic talent, create props, and book a filming space. Two writers were also hired to create scripts for the show.
"Each episode revolves around a single topic, and we were regularly communicating with the authors ahead of time to get their input and insights," Stango said. "Episodes are scripted, but there was lots of room for improvising while filming was happening."
Production began in early January and lasted for three days.
"We had so much fun working with the authors and divisions, and we would love to do a Season 2 should the opportunity arise," Stango said. "Now we're focused on getting the word out. It's of course a challenge to break through the news cycle these days, but we're working with other fantasy Facebook Groups to feature the series and get their audiences engaged. Fantasy fans are passionate and have a great sense of humor."'
You can watch the first episode here.
Posted: May 6, 2020