THE HOPEFULS Author Jennifer Close Living the Knopf Dream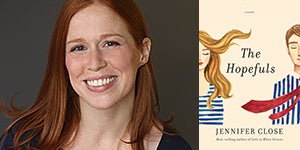 Author Jennifer Close, whose new widely-heralded book, THE HOPEFULS, is being published by Alfred A. Knopf on Tuesday (7/19), says, "At Knopf's 100th anniversary party, I spent the whole night feeling star struck by the amazing authors around me, like a book lover who'd stumbled into the best party ever, forgetting that I, too, was a Knopf author and actually belonged there. It was a dream of mine to be published by Knopf, to have that little dog stamped on my book that would make people take notice. But the best part of this dream coming true has been finding out that everyone at Knopf—from Sonny Mehta to the frighteningly efficient team of assistants—are all as kind, brilliant, and passionate about books as I'd imagined."
This week's Igloo Book Buzz title, THE HOPEFULS is a brilliantly funny novel about ambition and marriage, telling the story of a young wife who follows her husband and his political dreams to Washington, D.C., a city of idealism, gossip, and complicated friendships among the young aspiring elite.
Here is a sampling of what book critics are writing about THE HOPEFULS:
"A pleasure to read…Close has a light, precise touch about the way a young marriage works…. The Hopefuls offers a welcome mixture of humor and wisdom about the good people who run this country — or, for some reason, want to." —The Washington Post
"Ambition, political power and charisma take center stage in Close's riveting page turner about two couples who meet in DC—and the toll one pair's success takes on the other."
"Close lays the sacrifices and successes of a marriage bare, with razor-sharp prose and keen wit. Fans of Lianne Moriarty's relatable heroines will adore fish-out-of-water Beth, while political junkies will appreciate an insider's view of a small campaign. With themes reminiscent of The Marriage Plot and perfectly suited for this year's political climate, The Hopefuls is unflinchingly honest and utterly compelling."
—Stephanie Turza, Booklist (STARRED review)
THE HOPEFULS has also been reviewed in such outlets as Cosmopolitan, Vulture.com, Booklist, Refinery29, and Elle, with additional coverage confirmed in Glamour, Marie Claire, Us Weekly, Electric Literature, Salon, and on WAMU's Kojo Nnamdi Show, with much more to come.
Jennifer Close's author tour includes upcoming events in Washington, DC (7/20), East Hampton, NY (7/21), Brooklyn (7/25), Darien, CT (7/26) and Winnetka, IL (7/28).
Posted: July 18, 2016