THE HOUSE IN THE PINES is Reese's Book Club First Pick of 2023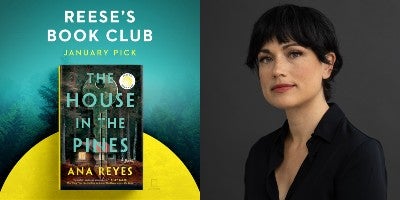 Reese Witherspoon raved about Ana Reyes' debut novel, THE HOUSE IN THE PINES (Dutton) when she announced it as the first Book Club Pick of 2023 in this exciting post. Reese says: "This is an absolute, can't-put-it-down thriller…It's truly a wild ride that had me flying through chapter after chapter—which I think is the perfect way to kick off your year of reading."
THE HOUSE IN THE PINES is a mesmerizing debut about a woman who returns home on an all-consuming quest to uncover the truth behind her best friend's shocking and mysterious death years earlier. The book oozes with haunting nostalgia that begs the question: could what you can't remember destroy you?
The book has received enthusiastic coverage leading up to and following the book club announcement which includes the New York Post, People Espanol, CrimeReads and E! News. CrimeReads says, "Reyes has an unerring grip on this suspenseful story, full of barely suppressed adrenaline and shocking twists."
Ana Reyes launched the book at Book People in Austin and you can catch her at events throughout January including a visit to Skylight Books in Los Angeles, Murder by the Book in Houston, and The Poisoned Pen in Scottsdale.
Posted: January 11, 2023