THE LAST DAYS OF NIGHT Turns the "Current War" into a Thriller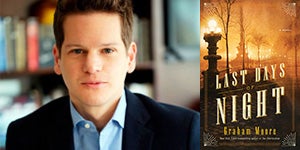 Imagine being in New York, circa 1888, when gas lamps still flickered in the city streets and the miracle of electric light was in its infancy.  That is the world in which Random House author Graham Moore sets his new book, THE LAST DAYS OF NIGHT, this week's Igloo Book Buzz selection. Mr. Moore offers his insight: "One of the things I got most excited about, over the years of research that went into this novel, was trying to get inside the minds of people living through a real hinge moment in history. They were seeing electric lights for the first time, and the effect was deeply shocking. People said it felt like they were seeing a brand new color. Society was never the same again, and neither was anyone after seeing a light bulb for the first time."
Noah Eaker, Executive Editor, Random House, edited THE LAST DAYS OF NIGHT and says, "I had loved both Graham's first novel, The Sherlockian, and his Oscar-winning script for the film, The Imitation Game. But nothing prepared me for the sheer excitement of this book.  I hadn't read a book that so skillfully matched historical flavor with a suspenseful plot.  As a reader you're constantly kept on your toes, even as you're being exposed to so much cool knowledge about a pivotal moment for America and the world.  What was so fun about editing Graham was the way he went about his research: every line of the book is informed either by a deep understanding of the events of the Current War or the most brilliant kind of storytelling guesswork."
THE LAST DAYS OF NIGHT delves into who controls the means to turn night into day, the person who will make history—and a vast fortune. A young untested lawyer named Paul Cravath, fresh out of Columbia Law School, takes a case that seems impossible to win. Paul's client, George Westinghouse, has been sued by Thomas Edison over a billion-dollar question: Who invented the light bulb and holds the right to power the country?
Black Bear Pictures acquired film rights to THE LAST DAYS OF NIGHT and will reunite Mr. Moore as screenwriter with The Imitation Game director Morten Tyldum for the film adaptation of the book. It was also recently announced that Academy Award-winning actor Eddie Redmayne is set to star as Paul Cravath.
The book has garnered amazing praise from fellow authors, including Erik Larson, Gillian Flynn and Scott Turow:
"In THE LAST DAYS OF NIGHT , Graham Moore takes us back to the dawn of light—electric light—into a world of invention and skullduggery, populated by the likes of Edison, Westinghouse, Tesla, and the novel's hero, a young lawyer named Paul Cravath (a name that will resonate with ambitious law students everywhere). It's part legal thriller, part tour of a magical time—the age of wonder—and once you've finished it, you'll find it hard to return to the world of now."  —Erik Larson
"Mesmerizing, clever, and absolutely crackling, THE LAST DAYS OF NIGHT is a triumph of imagination. Graham Moore has chosen Gilded Age New York as his playground, with outsized characters—Edison, Tesla, Westinghouse—as his players. The result is a beautifully researched, endlessly entertaining novel that will leave you buzzing." —Gillian Flynn
"THE LAST DAYS OF NIGHT  is a wonder, a riveting historical novel that is part legal thriller, part techno-suspense. This fast-paced story about the personal and legal clash over the invention of the light bulb is a tale of larger-than-life characters and devious doings, and a significant meditation on the price we as a society pay for new technology. Thoughtful and hugely entertaining." —Scott Turow
During publication week, Mr. Moore will be in New York and appear at Barnes & Noble Upper West Side on August 16 at 7:00 pm. He also has an event at the Book Cellar in Chicago on August 18.
Posted: August 15, 2016