The Making of WHISTLEBLOWER: A Story of Courage and Perseverance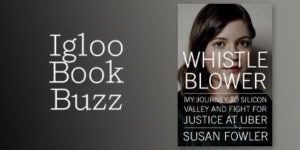 Our latest Igloo Book Buzz selection is Susan Fowler's WHISTLEBLOWER: My Journey to Silicon Valley and Fight for Justice at Uber, published this week by Viking.  Susan Fowler was just twenty-five years old when her blog post describing the sexual harassment and retaliation she'd experienced at Uber riveted the nation. Her post would eventually lead to the ousting of Uber's CEO, but its ripples extended far beyond that, as her courageous choice to attach her name to the post inspired other women to speak publicly about their experiences. 
Susan Fowler writes in her book: "Based on everything I knew, sharing my story with the world would likely ruin my life… I thought about each painful possible consequence—my career being ruined, and nobody wanting to hire me; being branded a troublemaker or liability … having to start my life all over again, after I'd just finally begun a new career; being dragged into legal battles with Uber—and I let each one go … I realized that I'd been practicing for this day, for this decision, for many years. I knew what was just, I knew what was truthful, I knew what was courageous, I knew what was right. Standing up against injustice was right. Refusing to give in to fear was right. Telling the truth was right… I knew what I had to do. I had to speak up."
The editor of WHISTLEBLOWER, Viking Senior Editor Lindsey Schwoeri, says, "Susan's blog post exploded onto the Internet on February 19, 2017 – three years ago yesterday. That was when I first became aware of her, as the courageous young woman who had spoken up about sexual harassment at Uber. Now, this was eight months before the Harvey Weinstein news broke, so, of course, I didn't know that her post would come to be seen as one of the opening shots of the #MeToo movement, or that she would wind up on the cover of Time's 'Person of the Year' issue. Somewhat incredibly, as I look back on it now, Susan's agents approached me with her proposal less than a week after Jodi Kantor and Megan Twohey broke the Weinstein news on October 5, 2017, and just days before the hashtag #MeToo went massively viral.
"What struck me immediately about the proposal was that it was incredibly well-written and compelling—not surprising, in retrospect, now that I know that Susan's most closely-held childhood dream was to become a writer. I thought, 'not only is there a story here, there's a voice.' I was also intrigued by the little it contained about Susan's life prior to Uber: that she'd grown up in dire poverty and was largely self-educated. I remember my publicity director and I becoming emotional on the phone, as we listened to Susan describe how she'd called up local high schools and universities to learn the requirements for college admission, and as she detailed how she had turned to Silicon Valley only after her hope of pursuing a career in academia was derailed due to an incident involving a male student in her physics lab. I knew then that Susan's book would be much more than a business story, or a tech story: it was the story of a woman who had, over and over throughout her life, refused to accept her circumstances, propelling and reinventing herself through sheer force of will, and eventually taking on a hugely powerful corporation with her words. It was the story of the obstacles thrown in the path of so many ambitious young women, and how one extraordinary twenty-five-year-old had surmounted them.
"This conception of the book was what guided me as I worked with Susan to help shape her manuscript: that this was not a book about Uber, and what they did to Susan Fowler, but about Susan—about her courage and perseverance; about what she did, and why and how she did it."
The publication of WHISTLEBLOWER on Tuesday, February 18, was covered by major national media, including CBS This Morning, The New York Times, and NPR's Morning Edition.
Posted: February 20, 2020